A small act of recognition can make a big difference for an employee's morale. When Forbes reports that nearly two-thirds of employees would "likely leave their job if they didn't feel appreciated," these gestures can help you retain happy, talented employees.
While recognition is a good goal, you also need to make sure that these efforts make sense for your bottom line. Fortunately, there are plenty of good rewards that won't break the bank. Here are five low-budget ideas that small business owners can use to show employees their appreciation.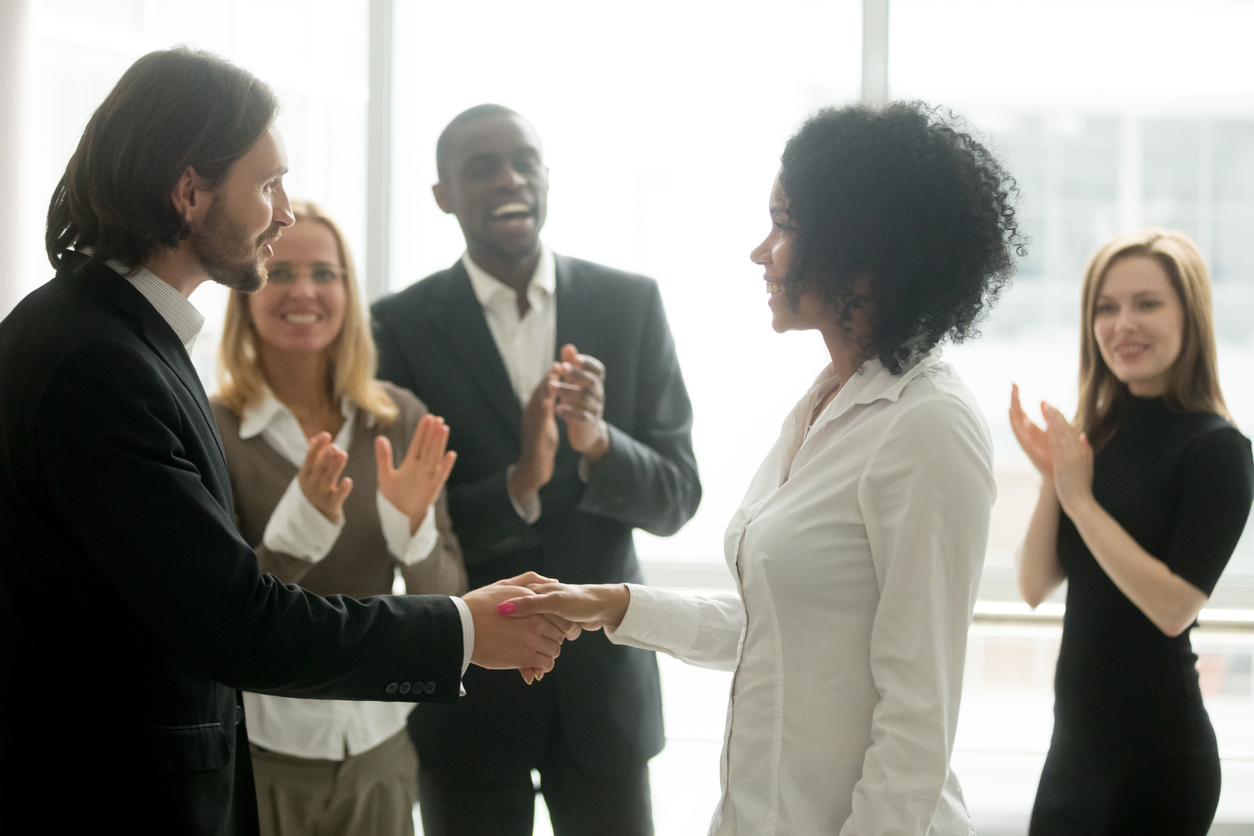 A Warm Welcome
One of the most important times to recognize an employee is on his or her first day. According to the Society for Human Resource Management (SHRM), "Up to 20 percent of turnover takes place in the first 45 days." Considering the average cost of replacing an employee, this can make early recognition a very cost-effective strategy.
Fortunately, it doesn't cost much to make new employees feel recognized on day one. There are several ways to help a new hire feel welcome right away, such as:
Greeting them personally on the first day
Giving them a tour and introduce them personally to team members
Sending out a welcome email
Creating a personalized orientation program
Sitting down and getting their feedback at the end of the first day
A welcome package is also a nice first-day reward that can make workers feel like they belong. A bag with some mugs, a gift card or two, and some written welcome notes from team members is a small investment to make for a new employee who could be a long-term member of your company.
Written Recognition
Speaking of written messages, an employee doesn't have to be new to appreciate a heartfelt note. Gallup cited that only three out of 10 U.S. employees feel they received recognition for their work in the past week. A handwritten note can show your workers that you not only notice what they're doing, but also appreciate them for their hard work.
How can something as little as a handwritten note be so effective? Unlike a quick email, written notes can create a personal connection that electronic messages just can't match. Former Campbell Soup Company CEO Douglas Conant found that handwritten "thank you" notes were so effective that he wrote more than 30,000 of them over the course of a decade. While you don't need to match his productivity, the occasional note is a small, inexpensive way to motivate your workforce.
Open Recognition
While handwritten notes are a great way to privately thank employees, company announcements are a free way to highlight workers in front of everyone else. Highlighting achievements during company meetings or via company-wide email are a way to make sure that everyone recognizes the efforts of various employees.
Recognition doesn't only have to be about what your employees do for your company. Your employees may appreciate when their peers recognize them for personal accomplishments as well. Did one employee finish that marathon she trained for? Congratulate him or her on the achievement. Did a group of employees volunteer at a local animal shelter? Share that in a company email. It may seem like a small thing, but these acts show that you care about more than just your employees' performance.
Gift Cards
A little money is a nice reward for just about any employee. With gift cards, you can set a budget that works for you. They also allow you to diversify your gift ideas by catering to your employees' personal preferences. If an employee makes a coffee run before arriving at work every day, a $10 gift card to his or her coffee shop of choice is a great perk that shows you pay attention.
It's important to note that the IRS does view certain gifts as taxable income for an income. According to SHRM, "Although there may be limited situations when the value of a gift card or gift certificate could be excluded from an employee's income, employers might want to take a conservative view and include the value of all gift cards and gift certificates in employee wages." This doesn't mean that you can't use gift cards as a low-budget gift; you just need to plan ahead to protect yourself from any tax issues.
The Gift of Time
Sometimes the best way to show your employees that you appreciate them is by freeing up their calendar. The occasional day off allows workers to recharge. If an employee does well, consider giving them a "free day" pass that can be used at a future date.
The occasional day off isn't the only way that the gift of time is on your side. Flexible work schedules can be an amazing gift for an employee that has to balance daycare schedules and other family responsibilities. If a good employee needs to stay home to watch the kids, work-from-home privileges shows a level of empathy that can build a strong bond between you and your employees.
Invest in Happy, Talented Employees
When your employees play such a huge role in your success, it makes sense to try and invest in top talent. As a Professional Employer Organization, Group Management Services offers a variety of services that help you invest in your workforce, such employee benefits administration and training programs.
Ready to learn more about how GMS can strengthen your business? Contact GMS today to talk to one of our experts about how we can help your company.
---
---