When you can't meet face-to-face, video interviews are a great way to assess a potential candidate. When in-person meetings aren't feasible, video interviews allow you to visually interact with applicants regardless of their location.
Of course, there are some additional hurdles with video interviews. Technical difficulties with video conferencing technology or unfamiliarity with video interviews can derail a promising conversation. To help, we've put together some tips you can follow to streamline your video interview process and quickly hire the right employees.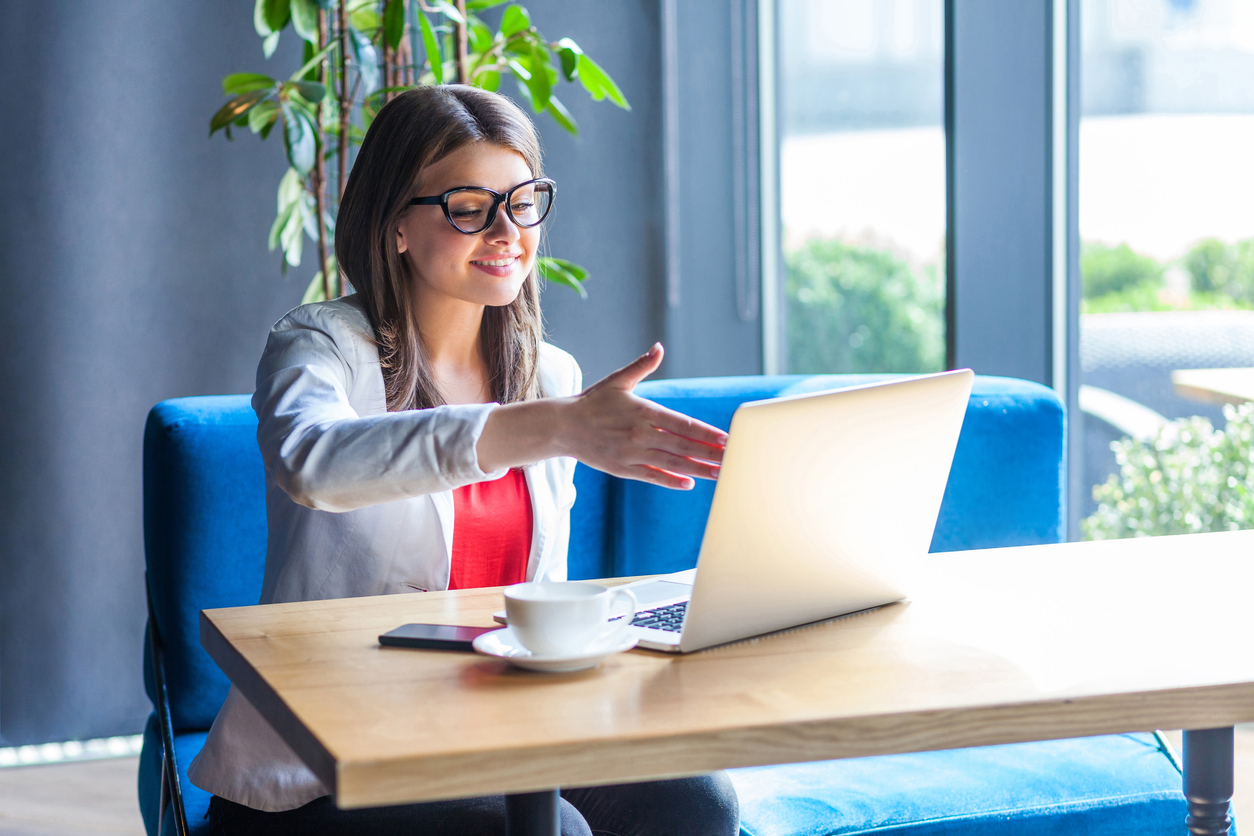 Set Up Your Interview Space
Your face isn't the only thing candidates will see during a video interview. Your background can say a lot about your organization, both good and bad. Regardless of whether you're operating in an office or at home, take the time to ensure that your interview space is set up for a video interview.
Proper lighting is critical for video presentations. A room that's too dark will muddle your appearance and look dreary. On the flip side, direct sunlight will create strange shadows or blow out your features. Try experimenting with adding lights, closing shades, or repositioning your space to see which works best for you. When in doubt, have someone take a picture of you from another computer so that you have an idea of what candidates will see ahead of time.
The physical presentation of your space also sends a message to the interviewees. It should come as no surprise that your space should be clean – dirty mugs or marks on the wall aren't going to send a great message to prospective employees. However, your space doesn't need to be devoid of items. Awards, personal knickknacks, and photos are perfectly acceptable and can even add some character to the interview process as long as they're workplace appropriate. A good rule of thumb is that if you wouldn't want your employees to see something, keep it out of the camera's view.
Dress Appropriately
After you've dressed up your space for a video interview, it's time to think about how you should dress. If you're at the office, you're probably already in appropriate apparel. However, conducting video interviews at home can lead to some loose definitions of professional garb. Your outfit communicates a lot about your company culture, so you'll want to make sure what you wear is right for your business.
While you may only be visible from the waist up on camera, you should take the time and effort to dress appropriately from head to toe. Your exact outfit depends on you and your company. For some, that may mean a full suit and tie while others may embrace a much more casual appearance. Regardless, your clothes should always be clean and presentable – a stained shirt is certainly not going to help anyone out during an interview.
Remove Potential Distractions
It can be easy to forget about something until it announces it's presence during a video interview. Do a quick scan of your interview space and identify if there are any objects that will create noise, flash, or somehow distract you or the interviewee. You should also silence your phone ahead of time – your next call or text can wait until the interview is over. If you're working from home, let your family know when you have an interview and find a quiet spot in the house away from pets and kids.
Distractions also extend to your computer as well. Everything from email to messaging platforms can pop up messages or make noise throughout your video interview. Even if you aren't sharing your screen, these popups and sounds can distract you and your interviewee from the task at hand. Make sure to close out these applications ahead of the video interview to put a stop to these issues.
Of course, some distractions are unavoidable. If you're working from home, there's not much you can do if your neighbor decides to mow the lawn or your dog barks at a squirrel in the front yard. If you think background noise is a possibility, be upfront with your interviewee that he or she may hear some sound on your end. Acknowledging potential noise will at least take the surprise out of the situation and make the occasional disruptive neighbor less awkward.
Get Comfortable in Front of a Camera
In general, how you act and speak during a video interview shouldn't be different than a face-to-face meeting. The issue with video interviews is that you may not be quite as comfortable in front of a camera. It can be more difficult to pick up on body language or certain speaking cues when your candidate is on a screen in front of you, so you'll want to focus on a few practices to keep you and the interviewee at ease.
To start, try to maintain positive body language on screen. Some people have a tendency to fidget or sway during video calls, especially if the meeting starts to go long. Even if unintentional, moving back and forth is not only distracting to candidates, it's also a visual sign that you may just be that into them. Even if that's true, better posture and body language can help make for a better interviewing experience for both parties.
Eye contact is also important. Whether you're glancing at yourself onscreen or referring to a candidate's resume or other documents, you want to try and keep the candidate at ease. Look at the camera occasionally to establish eye contact and try to limit wayward glances to show that you're interested in what the candidate is saying. You should also be careful not to interrupt candidates as they speak. It can be trickier to tell when someone has finished a point in video calls, so take an extra pause to ensure a candidate finished his or her response before stepping in to speak.
Do Some Test Runs Before Your Video Interviews
Not sure exactly how the video interview process is going to work? Test out the process with someone else instead of winging it with your next potential employee. Practice interviews with current employees, family members, or other test subjects will help you iron out the process and identify any technical issues before they become an embarrassing problem. This will give you an opportunity to troubleshoot any difficulties with your video conferencing platform or equipment.
Test runs also give you a chance to practice everything else that's on this list. Not sure how your workspace translates to interview? Your test partner can let you know if you need better lighting or if you're glancing off camera too much. Once you've highlighted these issues, you can solve existing problems or take what you've learned and apply them to the interviews that count.
Give Detailed Instructions to Job Candidates
If you had some issues with your video conferencing platform, it's fair to say that some of your job candidates may as well. Whether you use Zoom, WebEx, or any other video conferencing platform, you'll want to be as thorough with video interview instructions as possible.
To start, you should let candidates know what platform you're using and if they need to download any software, create an account, or anything else to use the platform. After that, you should lay out step-by-step instructions for accessing the platform, whether it's as simple as clicking a link in an email or something more complicated. Don't be afraid to include screenshots as well for visual assistance. Not only will this help them successfully join the interview, it'll also cut out potential delays by giving them this information days ahead of time instead of forcing them to figure it out at the last minute.
Of course, there are some situations where technical difficulties may foil even the best of plans. Provide candidates with a backup phone number (and ask them for one as well) on the off chance of user error or an issue with your video conferencing platform. You'll also want to schedule out extra time for video interviews. Not only will this allot some buffer time in case of technical difficulties, but it can also be valuable if you need to conduct back-to-back video calls. Just don't use the same meeting room and access code for multiple interviews – the last thing you want is to have one candidate join early on another prospect's call.
Find the Right Employees for Your Company
Whether you're interviewing people in person, via video, or on the phone, it's critical to identify the right people for your business. A Professional Employer Organization can help you streamline this time-consuming process through employee recruiting services that help you find top talent and build your business for the future. Contact GMS today to talk to one of our experts about how we can help your simplify your hiring process.
---
---