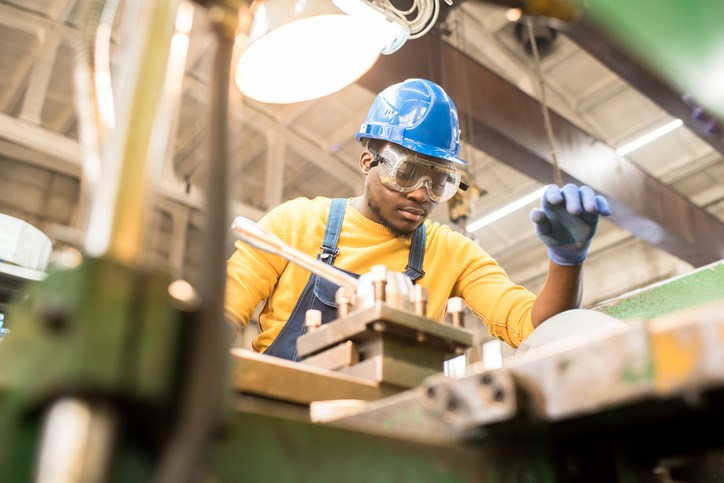 A healthy and efficient workforce is an important part of any successful business. In environments where workplace injuries are more common, it's absolutely essential.
According to the Bureau of Labor Statistics' most recent occupational injuries and illnesses survey, the manufacturing industry accounted for "15% percent of all private industry nonfatal injuries and illnesses." Manufacturing safety meetings are a great opportunity to educate your employees on key safety guidelines and practices. With the right information, your company can help protect people from injuries, stay compliant, and reduce workers' compensation costs.
8 Essential Safety Topics for Manufacturing Companies
When it comes to safety topics for the manufacturing industry, there are a variety of subjects that you should discuss with your employees. Here are eight key topics that your company should highlight at the next manufacturing safety meeting.
Slips, trips, and falls
The potential for slips, trips, and falls is arguably the biggest threat for manufacturing employees. OSHA estimates that these falls account for more than a third of fatal workplace injuries, making it a major priority for any manufacturing company. There are a variety of reasons for slips, trips, and falls in the workplace, including:
Wet or uneven surfaces
Ladders that are defective or set up improperly
Dangerous weather conditions
Crowded workspaces
Poor lighting
Human error
While you can't prevent every slip, trip, and fall, you can use safety meetings to educate employees about proper safety precautions. Train every employee on how to identify potential hazards and use protective equipment and fall protection systems. That education will not only help employees stay aware, but also know what to do to protect themselves and your business.
Fire hazards
A single fire can put both lives and property at risk. Your next safety meeting should highlight how fires start and what employees can do to prevent them. Start by breaking down relevant OSHA codes designed to protect against fire hazards. Employees should also learn about how they can adhere to any state or local fire safety laws to stay compliant and limit the chances of a fire.
You should also educate workers about what to do in case a fire ever breaks out at your facility. Have an evacuation plan for your employees so that they know how to get to safety. Make sure that your employees know the following details:
The locations for any fire extinguishers and other prevention equipment and instructions on how to use fire protection devices.
The locations of all exits at your facility.
Available evacuation routes.
Hazardous materials
The presence of hazardous materials can create a number of safety issues. Safety meetings are a tremendous opportunity to educate employees about the dangers of hazardous materials and proper procedures when dealing with these substances. 
To start, share guidelines on how employees should label, handle, and store hazardous materials. Let employees know where they can access safety data sheets for any onsite chemicals. You should also give employees a thorough rundown on proper waste management. This discussion should include details on the following subjects:
Relevant hazardous waste regulations
Waste determination
Accumulation limits
Waste pickup procedure
Finally, employees need to know next steps in case a spill, leak, or other form of exposure occurs. Discuss what can happen in these events and how to act quickly in these emergencies. If you really want to give employees some experience, you can perform a simulated emergency to help workers practice how to respond to potential spills and leaks.
Safety equipment and Personal Protective Equipment 
Personal protective equipment (PPE) won't help if your employees don't know how to use it – and that's if they use it at all. The first step of this process is to ensure that your employees and acknowledge that using or wearing safety equipment and PPE is mandatory. As long as you make this equipment available to employees at no cost of their own, they must use safety masks, reflective vests, and any other safety gear.
Of course, having that equipment and knowing how to properly use it are two different issues. Use your safety meeting as an opportunity to educate employees about how to properly wear, use, and store equipment. Employees should also know how to identify and report any equipment issues issues and next steps for disposal and replacement.
Machine guarding
According to OSHA, unguarded and inadequately guarded machinery leads to "18,000 amputations, lacerations, crushing injuries, abrasions, and over 800 deaths per year." It's essential to put the proper safeguards in place and educate employees about the dangers that industrial equipment can pose. Make sure that employees are aware of the risks associated with improper machine guarding and take the following steps to limit the potential for user error:
Train employees on how to correctly use any industrial equipment and follow proper procedures.
Review the machine guarding controls in place at your facility, which can include barriers, two-hand trips, and other safety measures.
Conduct a full walkthrough of your facility or facilities to highlight controls and potential risks.
Lockout/tagout procedures
Certain industrial equipment can release hazardous energy sources whether they're in use or not. Educating employees about proper lockout and tagout procedures will help ensure that workers know how to safely depower machinery and limit the potential for workplace injuries.
Use your manufacturing safety meeting to stress just how important it is to control hazardous energy and follow proper maintenance and service protocol at all times. If you don't already, make sure you have written lockout/tagout procedures for every machine and present them during the meeting. While the exact procedures can vary, the following steps represent a typical process for lockout/tagout:
Notify any employees who are affected by lockout/tagout.
Shut down equipment in accordance to proper procedure.
Isolate the energy source.
Attach the appropriate lockout device.
Release or restrain any energy stored in the machine.
Verify the lockout with the proper personnel.
Electrical safety
Anytime equipment generates electricity, there's a chance that someone can get electrocuted. Electrical accidents can range from minor shocks to major fires and fatalities. Regardless of the danger level, you'll want to talk with your employees about these hazards.
It's important that employees don't underestimate potential electrical safety threats. While electrical machinery is a more obvious hazards, exposed wires or improperly used power strips are also an issue. The following topics can help ensure that employees know how to behave around electrical equipment and why safety is so important.
Electrical safety requirements and procedures in the workplace.
Why electrical safety-related work practices are critical.
How to identify potential hazards.
The different types of electrical injuries.
Ergonomic work areas
It's easy to overlook the importance of workplace ergonomics, but this topic plays a direct role in limiting injuries and stress. Both laborers and office team members can directly benefit from adapting processes, environments, and instruments around their physical needs. There are a variety of ways that you can educate employees about safe workplace ergonomics, including the following subjects.
Correct lifting techniques and best practices to handle repetitive motion.
Stretches and exercises that can help minimize physical risks when bending, lifting, or twisting.
Ways to adjust computer monitors, equipment, and other items to improve posture and avoid neck and back pain.
Proper posture to prevent long-term issues.
Protect Your Business Through Manufacturing Safety Meetings
Proper safety training can go a long way toward making your workplace safer and more efficient. However, it's not always easy for small businesses owners to conduct these meetings and stay ahead of safety and compliance risks alone.
Group Management Services partners with businesses to reduce risk and create a safer, more efficient work environment. Our experts can assist you with onsite consulting, jobsite inspections, accident and injury investigations, training, and safety education. You can also sign up for one of our workplace safety courses. Contact GMS today to talk to our experts about how we can make your business simpler, safer, and stronger.
And, be sure to mark your calendars for our upcoming safety expo on Sept. 10, 2021 at our Richfield office. For more information on the expo, please contact Paul Aldrich at PAldrich@groupmgmt.com
---
---