Creating a startup venture is no easy task. Startups come in all shapes, sizes, and industries. Neil Blumenthal, cofounder and co-CEO of Warby Parker summarizes it best, saying, "A startup is a company working to solve a problem where the solution is not obvious and success is not guaranteed."
According to Small Business Trends, almost half of small businesses don't make it past the fourth year. These companies still aren't in the clear, as Forbes estimates that the overall failure rate for startups falls between 80 and 90 percent.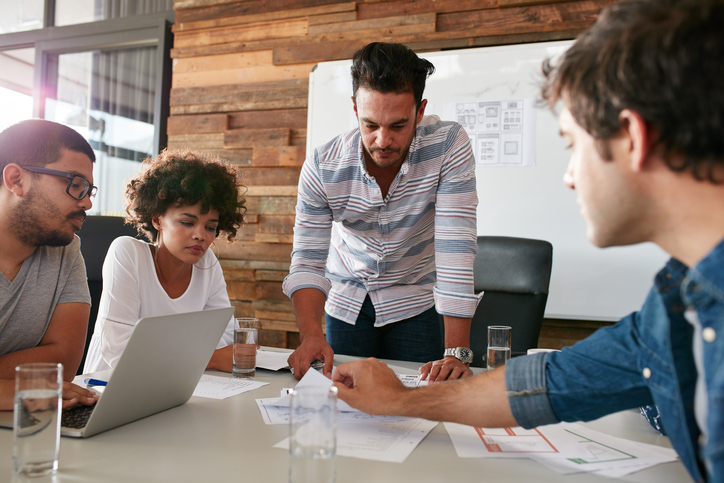 Why Startups Fail
There is a myriad of reasons as to why these companies fail. Whether it's due to putting out a product too early, not having enough capital, or simply being unable to keep up with the status quo, the statistics show that the odds are against these entrepreneurs. One of the often overlooked aspects of running a startup business is the human resources function, which can present many challenges, such as hiring and retention, employee training, safety, payroll, and benefits.
How Startups Can Succeed
There are many factors that contribute to the success of a startup. In his TED Talk, Bill Gross, founder of startup studio Idea Lab, attributes it largely to timing. Whether the world isn't ready for it, the timing is just right, or you're too late to the game, Gross says, "Timing accounted for 42 percent of the difference between success and failure." Additionally, solid finances and great execution (which could be anything from product marketing to internal processes) can contribute to a businesses' success and longevity.
A Professional Employer Organization (PEO) can help startups develop critical hiring and retention practices, offload the burden of administrative tasks like payroll, and offer benefits in a cost-effective manner. The National Association of Professional Employer Organizations (NAPEO) found that businesses working with a PEO:
Grow 7 to 9 percent faster.
Are 50 percent less likely to go out of business.
PEOs provide a number of services to help manage payroll, taxes, human resources, employee benefits, and more. Here's how startups can benefit by working with a PEO:
Recruitment
As your startup grows, it can be hard to find the right people. According to CareerBuilder, the average cost of a bad hire can be as high as $15,000. Bad hires are typically made from rushing the interview process, lacking adequate talent acquisition tools, and failing to conduct background checks.
A PEO can offer guidance and resources for hiring, from creating and posting job ads to reviewing resumes. PEOs can do all the legwork to streamline the recruiting process and attract quality candidates.
Retention
Working for a startup can often mean long hours, which can lead to increased burnout and turnover. Especially when benefits packages are lacking or paychecks aren't delivered on time, good employees may look elsewhere for better work/life balance, benefits, or job security. The aforementioned CareerBuilder survey found that the average cost of losing a quality employee is nearly $30,000.
Providing attractive benefits, building rewards programs, and implementing employee feedback tools are just a couple ways PEOs can help startups retain top talent. In fact, NAPEO found that those that do work with a PEO, experience a 10 to 14 percent lower employee turnover.
Standards
It's often challenging for business owners to develop HR policies from scratch. In the early stages, many startups will even employ a "too small to matter" mindset, believing they can handle issues as they arise. The problem, though, is that when problems do—and they will—arise, employees and managers have no place to turn when they need a standard for business conduct.
A PEO can help startups create employee handbooks and set employee expectations. Having good policies in place can help establish a positive company culture where employees understand expectations and feel comfortable addressing any problems they may be facing. In fact, a study by the University of Warwick found that happy employees are 12 percent more productive.
Payroll
For startups, managing payroll and filing taxes can be a time-consuming and challenging task. Between income types, deductions, contributions, and of course taxes, payroll can be tricky to comprehend.
That's where working with a PEO can provide value to both startup founders and their employees. PEOs can provide access to payroll software to streamline the payroll process, ensure payroll is delivered on time, simplify time tracking, and eliminate payroll mistakes. Payroll tax management also helps reduce tax liabilities and responsibilities.
Compliance
From misclassifying employees as contractors to offering workers shares in lieu of pay, it's not uncommon for startups to violate federal regulations, even without intent. According to the IRS, 40 percent of small businesses incur an average of $845 in penalties each year.
To minimize liability and keep up with extensive governmental regulations, a PEO can help startups stay compliant. PEOs offer assistance with payroll taxes by managing records, filing state and federal taxes, and issuing forms like 940, 941, W-2, and W-3s.
Benefits
Good employee benefits are essential to attracting and retaining top talent, yet the cost of providing benefits can be extremely costly to startup businesses. A survey by the Society for Human Resources Management (SHRM) found that 92 percent of employees find benefits important to their overall job satisfaction, with nearly a third citing employee benefits as a reason to stay or leave their current positions.
A PEO can offer startups more cost-effective benefits packages by leveraging the power of group health coverage. Not to mention, PEOs can offer more comprehensive coverage, including supplemental insurance, retirement savings plans, wellness programs, and more.
Work With a PEO
Outsourcing your company's HR responsibilities to a PEO like Group Management Services can save time and money, while allowing you to focus on growing your business. After all, you likely didn't venture out to become an HR expert.
GMS offers payroll, human resources, employee benefits, and risk management services to help your startup succeed. With our proven history, easy-to-use online payroll portal, and dedicated team of experts, GMS is proud to take on your administrative burdens. When you work with us, you can put your focus back on client relationships, building an effective team, and growing your profits, while we help you reduce costs, limit risk, and save time and money.
Ready to work with a best-in class PEO? Contact GMS today to talk with one of our experts to see how we can make your startup business simpler, safer, and stronger.
---
---