Administrative professionals in a wide variety of industries work long and hard to make sure that their office provides the proper support it needs to succeed. Given their contributions to an organization's wellbeing, it's only appropriate that you show your appreciation for these important employees. 
Conveniently enough, April 22 marks Administrative Professionals' Day in the U.S., giving employers a chance to reward the office administrators, secretaries, and every other person in a position that helps to hold the office together.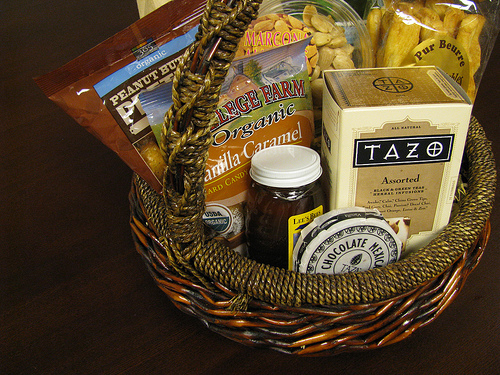 Photo Credit: "Gift Basket" by Calvert Café & Catering is licensed under CC BY 2.0
What is Administrative Professionals' Day?
In 1952, the International Association of Administrative Professionals (IAAP) sponsored Administrative Professionals' Week. Sixty-three years later, the holiday is still going strong, landing in the last full week of April every year.
According to the IAAP, there are more than 22 million administrative and office support professionals working in the U.S. so the holiday can affect many different businesses and organizations. Fortunately, we have some helpful gift ideas to treat your administrative professionals.
Cater Gifts to Each Employee
When it comes to rewarding your administrative professionals, the best gifts are the ones that you cater to that specific employee. Does your office manager like coffee? Perhaps a gift card to his or her favorite coffee shop would be best. Do they have a sweet tooth? There's always chocolate. Plus, you can always treat your administrative assistants to lunch.
Of course, there are also gift ideas outside of material goods. If your company's administrative assistants have been doing a great job, you could always let them leave early for the day or give them a little extra time off.
Keeping Employees Happy
It's important to keep up team morale, so don't be afraid to treat employees who are working hard and doing a good job. 
At Group Management Services, we know that your employees play a major part in your organization's success. Give us a call at 1-888-823-2084 or contact us online today if you'd like to find out how GMS can help your company through Human Resources Management.
---
---