Group Management Services was recently honored as a Patriotic Employer through the Employer Support of the Guard and Reserve. Stacey Larotonda (VP Client Services) was nominated by GMS Account Manager, Lauren Handley, Petty Officer First Class in the Navy (E-6), who is currently serving an 8-month tour in Afghanistan.
Retired USAF Lieutenant, Colonel Chaker Fadel, serves as the Employer Outreach Coordinator for the ESGR. Fadel presented Larotonda with the award on April, 21 2017, which is given to an employer who has shown exceptional support of The National Guard and Reserves.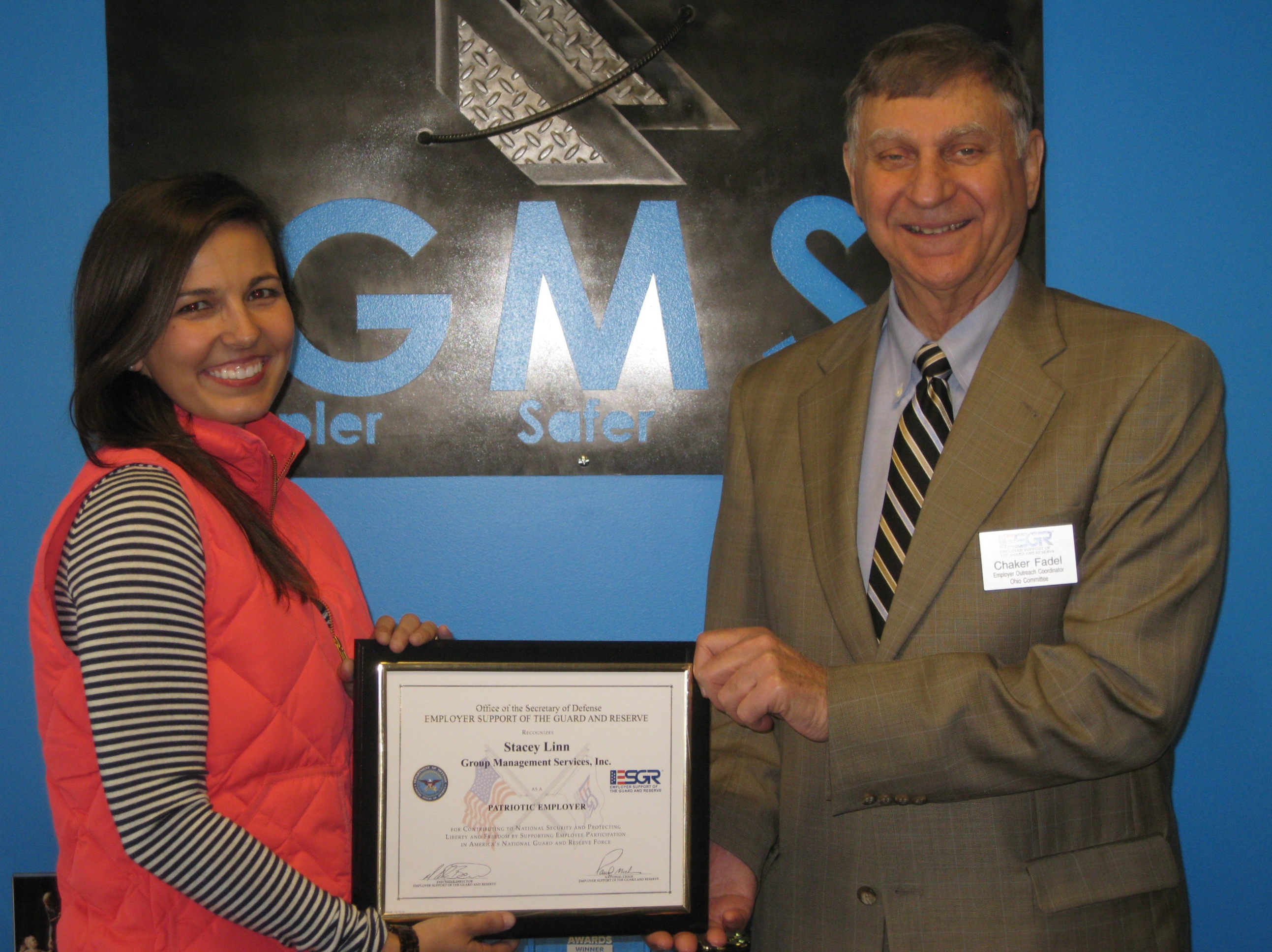 "Stacey was well aware of my obligation to potentially have to deploy upon hiring me," Handley said. "Because of this, it did not come as a shock when I initially notified them and they received the news in an unruffled manner, being mindful of my mental state and caring about me as a human being first and foremost."
At GMS, our belief in supporting the troops goes all the way up to the top. We are honored to employ many current and former members of the military who play a large role in our company's success.
"GMS supports the military in any way that we can. We know that if a person is willing to dedicate his (or her) life to protecting us, he (or she) is the type of person we want on our team," Larotonda said.
Handley summed all the backing from the company saying, "The support from management and co-workers has been non-stop and above and beyond what I could expect."
Handley definitely felt the support from her company. They organized a happy hour to wish her good luck, provided a massage before her departure, and allowed her to keep her company iPad to communicate to family while she is gone. Handley could not have been happier knowing her company cared and supported her through the process.
"GMS has supported my military service from the get go and exceeded my expectation for making this as easy of a transition as possible," Handley said.
Stacey explained that Lauren has shown herself to be a great asset to GMS.
"Lauren Handley has exceeded all of my expectations. She's one of the hardest working people on our team." Larotonda said. "She knows how to focus and get the job done, all while building amazing relationships with her co-workers and clients. If I could have 20 more Laurens, I would take them in a heartbeat. We can't wait for her to return safely."
Group Management Services is a Professional Employer Organization that has helped over 1,100 clients make their business simpler, safer, and stronger through expert HR management. Contact us today to learn more about the services we offer!
---
---