With today's challenging economy, employees are often finding themselves searching for a better paying job. A recent survey states that 47 percent of top-performers are looking for jobs. That statistic could be earth shattering for any business. "Whenever there's a shift in talent, it's the ones you want to keep that leave first."
Little do they know, they may be making more than they think. Employees typically only see their take home pay and not the cost of the additional benefits you as the employer are offering.
As an employer, it is imperative to make sure your staff feels valued. A great way to accomplish this is to show employees everything they are being offered besides what they put in the bank. By presenting your employees with these facts, it will encourage them to stick around. Turnover rates can not only bring morale down, it is also a huge cost to you. With costs like unemployment taxes, job ad placements, background checks, training, and administrative costs during the process, it could cost you thousands of dollars each time an employee quits.
What you can do
If only there was a way to show to employees their base pay plus all that your business offers. That's where GMS comes in. We have the resources to create a Benefit Summary for each employee. These summaries will show your employees that their services are valued and they are getting more than just their take home pay.



"Our employees were unaware of how much we invest in them until they saw the Benefit Summaries. Many expressed that they felt valued as an employee and were happy to see the summary"

- Jennifer H., Current GMS client
What is included on a Benefit Summary?Benefit Summaries can include benefits including but not limited to:
| | | | |
| --- | --- | --- | --- |
| Health Insurance | Short-Term Disability | Retirement / 401k | Company Cars |
| Dental Insurance | Bonuses | Vacation Time or Paid Time Off | Tuition Reimbursement |
| Vision Insurance | Cell Phone Reimbursement | Holiday Pay | |
| Life Insurance | Long-Term Disability | Flex Time | |
If you offer any of the above benefits, we can obtain the information to create these summaries. Benefit Summaries provides your employees with a snapshot of the above incentives. Below is an example of what a Benefit Summary looks like.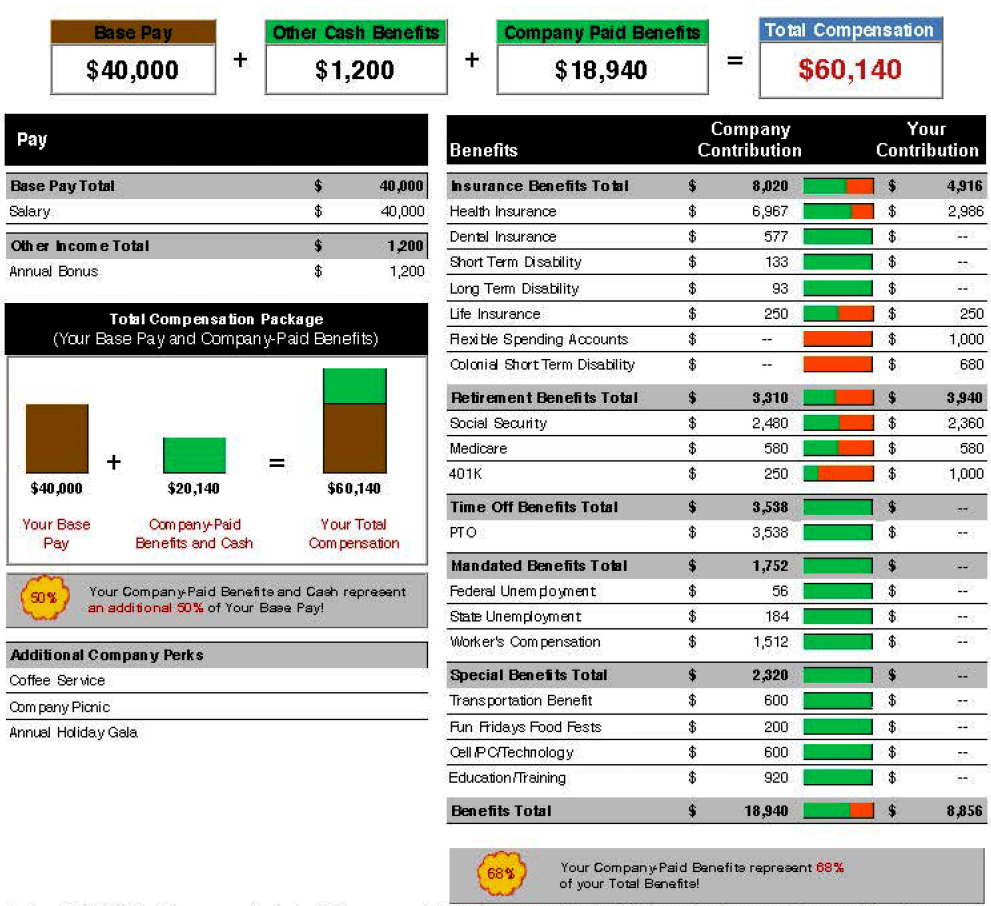 The Next Step
By having GMS has your Professional Employer Organization, we have access to the data used to assemble these summaries. Our Account Managers will collect the data, generate the reports, and present them to you. If you're ready to make a move, contact your Account Manager today and we can get started.
If you are not currently using GMS, this is a great reason to consider. These summaries will help retain your employees and as a result, save you money.
---
---