Health Insurance renewals may be one of the most important decisions an employer makes each year. For most small businesses, group health insurance is one of the largest expenses they incur, meaning the process can be quite stressful. To help, we put together some guidance on the renewal period and what you can do to streamline the process for your business.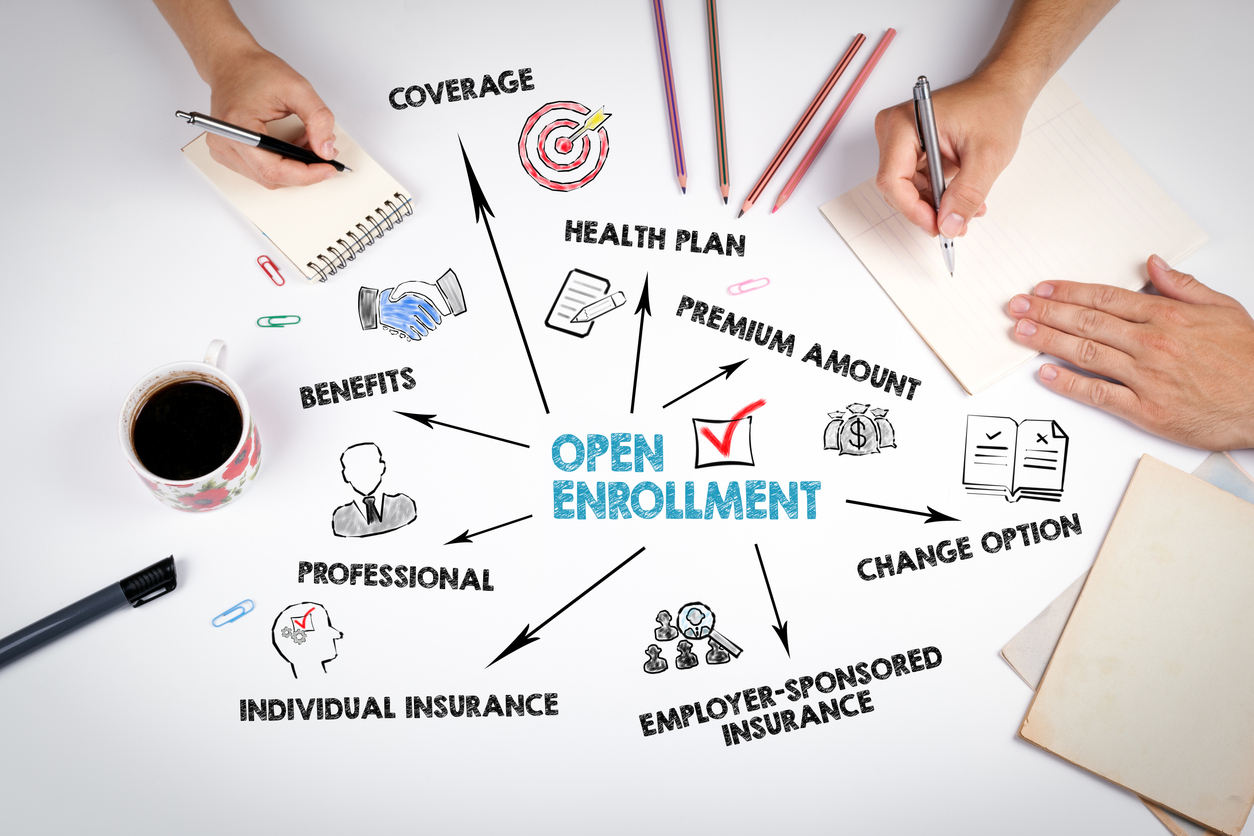 Why Do Renewals Happen on an Annual Basis?
The renewal process is designed to give insurance carriers, employers, and employees the ability to make adjustments on an annual basis. However, those adjustments differ depending on the party involved. Insurance carriers use the yearly renewal process to keep plans compliant with any new regulations and calculate new health insurance plan premiums.
As an employer, yearly renewals allow you to adjust your benefits plans as your business evolves. Over time, you may have grown or your employees' benefits needs may change. Annual renewals allow you to add or adjust your plans, change contributions, and make any other changes to benefit both your business and your employees.
Likewise, your employees can use the renewal period to change their plan selection or renew the same plan as before. Potential changes include swapping plans if you offer more than one, adding a dependent, or even opting out to join a spouse's plan.
What are the Different Stages of the Health Insurance Renewal Process?
The renewal process is made up of five main steps from start to completion. This process begins with health insurance carriers before turning to you and your employees.
Stage 1: Reassessment
Before you see any new plan options, your insurance carrier needs reevaluate its new pricing for the upcoming year. This can often involve the insurance carrier adjusting premiums because of new doctor's fees, medical technology, general inflation, and other reasons. The insurance company will also assess your company for any change in risk levels and other factors that impact your potential premiums.
Stage 2: Presentation
Once your insurance carrier reassesses its rates, it's time to apply those rates to new plans. At this point, your insurance carrier will present you with different options for your company to use in the upcoming year.
Stage 3: Selection
Now that you have a variety of plan options, you'll want to figure out which is best for you and your employees. You'll also need to determine how much your company will contribute to each employee's plan after you decide on a plan.
Stage 4: Employee enrollment
After you're done making a plan selection and identifying contribution amounts, it's time for open enrollment. At this point, you will present your employees with the plans you've chosen so they can weigh costs, compare coverage, and weigh any other factors that may impact their decision to enroll in one of your options or find coverage elsewhere.
Stage 5: Completion
At some point, your employees will need to select a plan or opt out of your plans. Your insurance provider will then make sure that any eligible member of the company who selected a plan is effectively covered throughout the course of the new plan year.
How Can I Prepare for a Smooth Health Insurance Renewal Process?
While the renewal process may sound like a fairly simple five-step process, it can be anything but if you're not careful. It's important to prepare ahead of time to limit the stress renewals can place upon both you and your employees. Here are a few tips to help you get your company ready for renewal season.
Communicate with your employees ahead of time
It never hurts to give your employees advance notice about open enrollment. While some of your employees may be aware of your annual renewal season, others may not. As you or your health care provider go through the presentation and plan selection process, it's good to send a message to your employees that open enrollment is approaching and share some basic info about what that means for them. This will help eliminate any confusion from employees who may not be as knowledgeable about insurance renewal season.
Not only should you communicate with your employees ahead of the open enrollment period, you should also talk to them once they're presented with new plan options. It's good to educate eligible employees about any plan changes, whether it's a new offering or something that's no longer a part of the new coverage options. By explaining these changes, you can be upfront with employees, which can help mitigate any hard feelings from employees upset about surprise changes.
Evaluate your company's needs
There's a good chance that your company isn't in the same position it was a year ago. Whether you've grown or not, you and your employees may have different health insurance needs than before. As such, it's best to plan ahead to determine some specific goals for the plan selection process.
As an employer, one of the first factors you need to identify is your budget. Has that number changed since this time last year? If so, that will likely impact the quality of the plan you select. You'll also need to account for any potential rate increases given the aforementioned possibility of higher plan costs due to internal or external factors.
You'll also want to account for your employees as well. According to the Society for Human Resource Management, "56 percent of U.S. adults with employer-sponsored health benefits said that whether or not they like their health coverage is a key factor in deciding to stay at their current job." In addition, 46 percent of that same group said their health insurance was the deciding factor or a major reason why they chose their current job. Health insurance is a key retention and recruitment tool, so you'll want to balance your employees' preferences with your budget to have a plan in place during the renewal process.
Find the right coverage options for your organization
One of the most important parts of the renewal process comes long before you've ever presented plans. Finding the right group health insurance partner plays a massive role in not only the quality of your benefits package, but also the cost of your premiums. Small and mid-sized businesses may be subject to higher premiums since they have fewer employees than big companies that can spread risk out across larger group sizes. Fortunately, a Professional Employer Organization (PEO) can help your company enjoy some of the same advantages as a big business.
At GMS, we represent tens of thousands of employees, which allows you to leverage our greater group buying power to attain more cost-effective insurance rates. In addition to getting more bang for your buck, we also offer supplemental insurance coverage to tailor your plan around your employees. Our experts can also take the burden of employee benefits administration off your shoulders, making sure your company is covered and compliant while you use your new free time to focus on other business matters.
Ready to revitalize your health insurance coverage? Contact us today to talk to one of our experts about what we can do to protect you and your business.
---
---