Winter isn't coming—it's here. The falling snow and frigid air are good reminders to prepare your workplace for the winter months ahead. From power outages to workplace injuries, winter weather can have some chilling effects on your business operations. Read on to understand why workplace safety is important and the winter workplace safety measures your organization should take this season.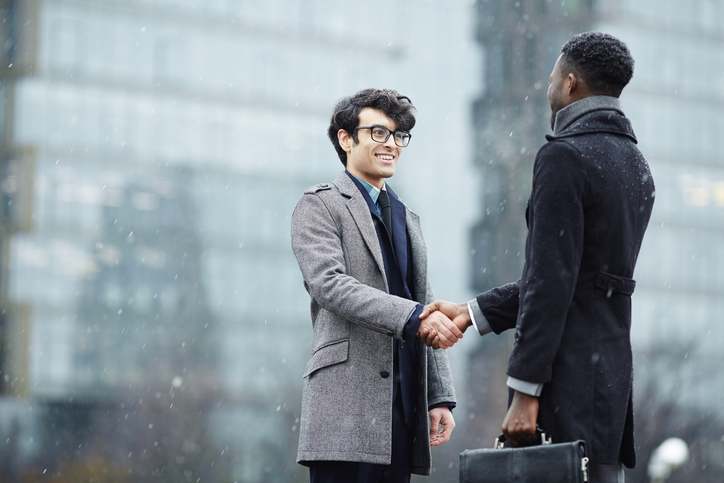 Why Invest in Workplace Safety
Winter weather can cause many workplace injuries and safety hazards. Don't think your organization is immune. For example, in 2014, there were 42,480 work injuries involving ice, sleet, or snow that required at least one day to recuperate, according to the U.S. Bureau of Labor Statistics. These injuries resulted from falls, slips or trips; overexertion and bodily reaction; and transportation incidents. However, had the proper winter workplace safety precautions been taken, many of these workplace injuries likely could have been prevented.
Workplace injuries not only result in lost work hours, but safety violations can also lead to costly fines. The average penalty for a willful or repeated violation is $129,336. Additionally, your insurance rate will go up with the more workers compensation costs your organization takes on. To avoid these expenses, it's best to implement loss prevention strategies before workplace accidents happen. Through human resource and risk management tactics, you can build toward a more secure future for your company while saving time and cutting costs for your business in the process.
Winter Workplace Safety Tips
Businesses can't keep operations running and thriving without a healthy and efficient workforce. That's why it's important to prepare for the elements now to keep your employees safe and ensure your workplace continues to run smoothly during the winter months.
Here are a few winter workplace safety measures you can implement at your organization this season:
Prevent slip-and-fall accidents
Snow, ice and freezing temperatures in the winter can create wet and slippery surfaces at work that will lead to accidents. Most snow and ice-related slip and falls happen outdoors, so make sure your parking lots, driveways, and walkways are cleared and salted so workers can travel safely between the worksite and their vehicle.
Winter workplace accidents can also occur indoors, especially in entryways, hallways, and other rooms where ice and snow have been tracked in from outside. Lay down absorbent mats and set up wet floor signs to help employees safely move around the office during the winter months.
Safeguard your air quality
Cold temps lead to tightly sealed workplaces, so the office can get a bit stuffy during the winter months. According to the U.S. Environmental Protection Agency, the levels of contaminants and pollutants found in indoor air can be between 2 and 5 times higher than outdoor air.
To prevent the accumulation and buildup of contaminants inside your workplace, use cleaning, break room, maintenance, and office supplies that don't emit vapors or distribute contaminants. Also, take advantage of warm winter days to open the windows and filter some of the air out.
Back up utilities, technology, and data
Power outages can happen when weather conditions take a turn for the worse, causing technology and utilities to fail. In case the electricity goes out, keep flashlights stashed around the office so employees can safely navigate their way to the exit. Additionally, pipes can freeze and burst if the heat is off for too long and sump pump failure could cause flooding. Consider investing in a backup power generator to keep the building utilities running smoothly.
A bad storm can also cause electrical surges that can damage expensive technology equipment, such as computers, printers, TVs, and data centers. Make sure your devices are hooked into surge protectors to avoid any electrical damage. Additionally, loss of power can result in loss of company data. Regularly back up data through a hosted off-site or onsite service, and make sure your back-up system is functioning properly before a potential storm hits.
Allow a work-from-home option
Inclement weather can affect an employee's ability to get to work safely and in a timely manner, so it's important to have a telecommuting policy in place. Every year, more than 1,300 people are killed and 116,800 people are injured in vehicle crashes on snowy, slushy, or icy pavement, according to the U.S. Department of Transportation Federal Highway Administration (FHWA).
Not to mention, the time your employees waste on a lengthy winter commute could be put to better use if they avoid it altogether and work from home. The FHWA says speeds can be reduced by as much as 40 percent during bad weather, increasing travel time delay—and the last thing you want is an employee speeding to work to avoid clocking in late.
If the job permits, encourage your employees to work from home if they feel unsafe commuting to the office during inclement weather. Make sure your staff has the proper equipment, such as access to the company intranet and important contact information saved to do their job effectively from home. During the winter months, employees should get in the habit of taking laptops and work materials home when they leave for the day in case a bad storm rolls in overnight.
Keep sick employees out of the office
Bad weather isn't the only safety hazard companies have to overcome during the winter months. Colder temperatures often come with a rise in sickness, such as the common cold and flu, and unfortunately, that doesn't deter some employees from coming into the office.
According to NSF International, about 1 in 4 employees goes to work when they're sick. While this might sound good for meeting deadlines, these employees are not only putting the entire office at risk for getting sick, they're actually being less productive than if they would have just taken a sick day to recover.
Encourage employees not to come into the office when they're sick, either by working from home or taking the day off. Sanitize workspaces, especially desks, keyboards, door knobs, and bathroom keys on a more frequent basis during the winter months when flu season is at its peak.
More Workplace Safety Help
It's important for business owners to take a proactive approach to workplace safety, especially during the winter months. Group Management Services can help with onsite consulting, jobsite inspections, accident and injury investigations, training, and education to make sure your workplace is a safe environment for employees.
As you prepare for the winter, you might also want to think about other ways you can prepare your workplace year-round. GMS offers a variety of payroll, risk management, and human resources services to help keep your business running smoothly all through the year.
Want to make your workplace safer? Contact GMS today to talk with one of our experts about how you can ensure workplace safety at your organization.
---
---