Broken bones, muscle strains, burns, cuts, and lacerations—injuries at work happen all too frequently. According to the National Safety Council, a worker is injured on the job every seven seconds.
Does your organization have a workers' compensation strategy? As a small or mid-size business, you might think you have it under control and can brush it under the rug until the unfortunate happens. Or, perhaps the very fear of "what if" keeps you up at all hours of the night.
Either way, business owners have a lot to lose when they don't have the resources to properly handle a workers' compensation claim. See what you can learn from these two real-life stories involving workers' compensation claims below.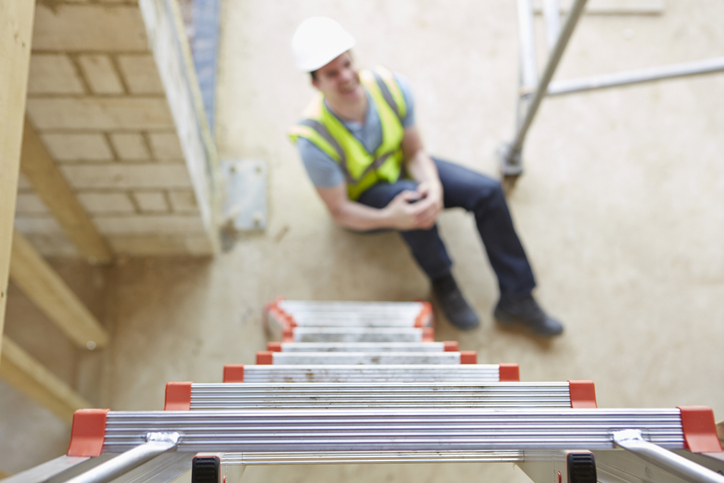 [more]
Names have been changed to protect identities.
The Case of the Missing Workers' Compensation Policy
Mary was the owner of a security camera company. She had been in business for 29 years, and one employee named Jack had been with the company for 25 of those years. Jack drank, consuming a daily liquid diet of whiskey and beer.
One day, he was 20 feet up on a ladder, putting together a security camera at a school during recess. His shakes from alcohol withdrawal caused him to lose control of the ladder and fall, breaking both of his arms.
An ambulance transported Jack to the hospital where they tested his blood. The first time, his test results detected MRSA. The second time, the doctors found both cocaine and marijuana in his system.
Jack filed a workers' compensation claim, but Mary wasn't worried. She figured that between the drinking and illicit substances found in her employee's blood, she could go to court without representation and the judge would easily rule in her favor.
Unfortunately for Mary, that wasn't the case. Mary didn't have an employee handbook. She simply never had time to put any real policies in place. When the judge asked about Mary's post-accident policy, her makeshift handbook of sorts was found unacceptable.
The workers' compensation claim cost Mary $85,000. On top of that, Mary had to pay Jack 14 months of unemployment.
Let that sink in. The real kicker, though, is Jack then sued Mary for $5,000 for not having rules or an employee handbook to protect him.
Workplace injuries used to keep Mary up at night. Fast-forward six years later, and that's no longer the case. Mary sought the expertise and protection of Group Management Services and was quickly onboarded with a risk and safety team to create policies and offer protection should the unfortunate happen again. As a business owner, she now says she sleeps better at night knowing GMS is protecting her business.
Had Mary worked with GMS from the start, she would have been equipped with an employee handbook featuring a workplace injury policy that would've protected her from her employee's alcohol consumption and drug use. She also would have had a human resources, safety, and legal team behind her to handle the claim efficiently and successfully in court.
Mary is just one story of the millions of workers' compensation cases that happen each year throughout the U.S. However, not all workers' compensation cases are quite as horrific.
The Case of the Fraudulent Workers' Compensation Claim
Sam headed a construction group that his family had owned for over 60 years. The company had been passed down through generations, and Sam worked hard to protect the business.
One Saturday, an employee named Tom was working at one of the construction sites and fell 15 feet through an opening in the ceiling. He went to the hospital and stayed overnight.
Meanwhile, Sam notified his risk manager at GMS right away and she worked with him over the weekend to report it to the Occupational Safety and Health Administration (OSHA).
By Monday, a field case manager at GMS met with Tom to gather his medical documentation. Together, the risk manager, field case manager, and legal team at GMS worked with Tom to sort out the facts of the case. They put together an investigation to uncover what actually happened during the time of the alleged accident, interviewing several witnesses.
Six hours later, GMS got to the bottom of the case. One of the witnesses reported that Tom intentionally fell through the ceiling in hopes of putting the money he would earn from the workers' compensation claim toward an "early retirement."
As a result, Tom's workers' compensation claim was denied. GMS is now preparing to take it to hearing, armed with enough evidence to report the claim to the Bureau of Workers' Compensation (BWC) fraud unit and open a fraudulent case claim.
Thanks to the quick action, constant communication, and solid teamwork, this workers' compensation claim was handled efficiently and successfully, and Sam was able to protect his family business.
Lower Your Workers' Compensation Claims
If you spend a lot of time—or not enough time—trying to find ways to lower workers' compensation costs and keep your business safe, a professional employer organization (PEO) might be a good fit for you.
Group Management Services is a PEO that provides cost containment and loss prevention strategies to help lower workers' compensation claims. When you partner with GMS for workers' compensation claims management, you're getting more than just a cost savings; you're also getting a partner that oversees the process of claims management and works closely with insurance carriers to ensure that your best interests are always at the forefront.
In addition, GMS provides comprehensive risk management, human resources, payroll, and benefits services to help your business run smoothly.
Put your mind at ease. Contact GMS today to talk with one of our experts to see how we can make your business simpler, safer, and stronger.
---
---