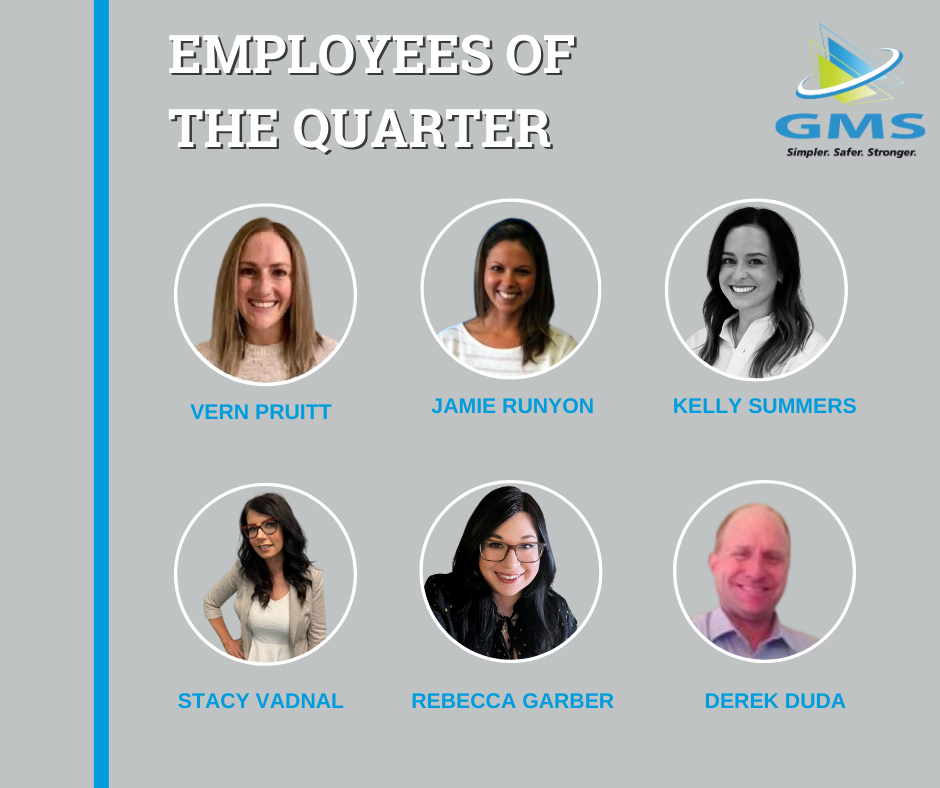 RICHFIELD, Ohio – January 16th, 2023 – The winners of GMS' fourth quarter Employees of the Quarter include:
-Vern Pruitt, Senior Benefits Implementation Specialist, was nominated for going above and beyond to help co-workers with any questions they may have. She's always available and willing to jump in for assistance and exhibits a wonderful work ethic.
-Jamie Runyon, Senior Payroll Specialist Tier II, always goes the extra mile in her role. She's there to lend a helping hand no matter how busy she is. Jamie is always helpful and responsive and goes above what is expected of her.
-Kelly Summers, Implementation Specialist Manager, was nominated by her colleagues for always being there to answer questions and providing excellent support for her co-workers. She's always there to help the entire implementation team.
-Rebecca Garber, Human Resources Account Manager, was recognized for always taking the time to explain processes, so her teammates are better suited for similar situations in the future. She's a rockstar and always has the best attitude.
-Stacy Vadnal, Product Manager, is always there to help in difficult, delicate, and unusual situations. She's also an invaluable resource to the entire sales department.
-Derek Duda, Sales Representative, Senior Sales Strategist, has been a great resource and provides a wealth of information to all sales representatives. He goes above and beyond to guide and teach newer sales representatives, showing them they can do the job at a high level.
GMS thanks each one of you for going above and beyond what is asked of you. Keep up the great work.
About Group Management Services: Group Management Services is headquartered in Richfield, Ohio, and represents more than 2,500 companies with over 45,000 worksite employees. There are currently 21 offices located throughout the United States. Businesses can rely on GMS' expertise in payroll, human resources, risk management, and benefits. 
---
---