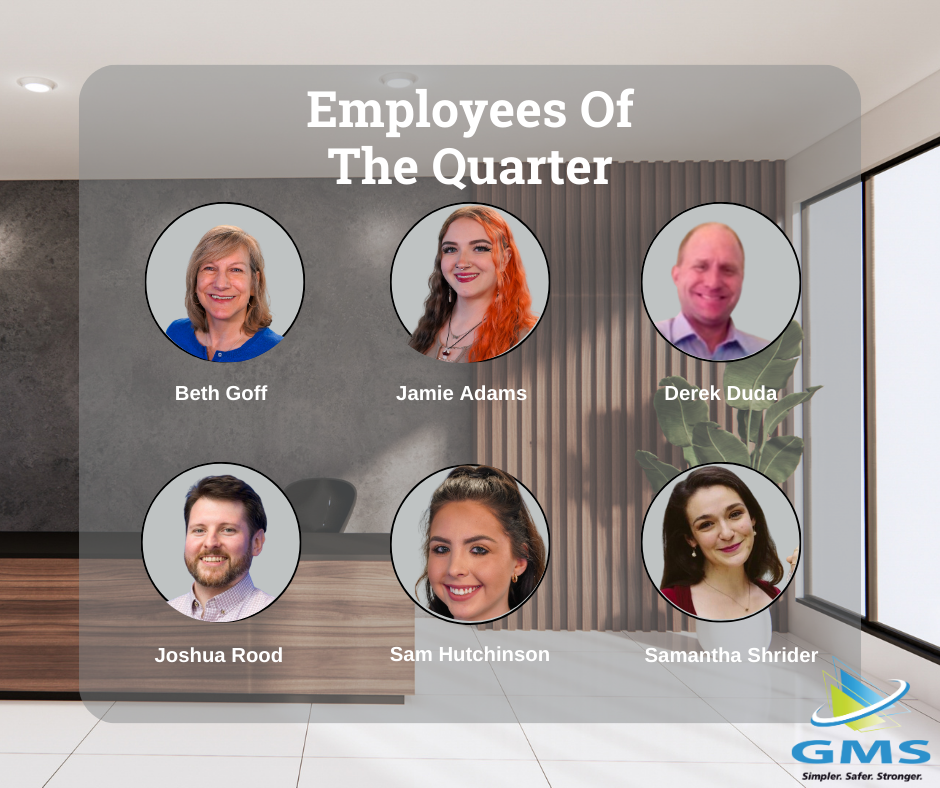 RICHFIELD, Ohio – October 16th, 2023 – Group Management Services (GMS) is excited to announce the recipients of the Employees of the Quarter award for the third quarter of 2023. In recognition of their outstanding contributions and dedication, GMS presents the following recipients:
Derek Duda, Senior Sales Strategist, was nominated because he is always available to assist Sales Representatives with their various needs, which is truly admirable. His vast knowledge, helpfulness, and willingness to go above and beyond sets him apart.
Samantha Shrider, Senior Payroll Specialist, consistently exceeds expectations by guiding her team and clients. Her commitment to simplifying processes at GMS is a testament to her exceptional teamwork and dedication.
Beth Goff, Benefits Administrator, was recognized for her exceptional work ethic and willingness to go the extra mile. She's an asset to GMS in a variety of different ways. Beth is prompt, thorough, kind, and widely respected throughout the organization.
Sam Hutchinson, HR Account Manager, has proven to be an indispensable resource for the client services team, particularly in developing clients' paid time off (PTO) plans. Her readiness to tackle any challenge, alongside being a team player, exemplifies her dedication to GMS.
Joshua Rood, Senior Salesforce Administrator, was nominated for his remarkable patience and promptness in fulfilling requests. His unique ability to explain the intricacies of the system in a user-friendly manner is greatly appreciated by many.
Jamie Adams, Workers' Compensation Administrative Assistant, goes far beyond her normal job duties, offering assistance to the risk management department whenever needed. Her responsiveness and dedication are a testament to her commitment to the company.
These exceptional employees embody the core values of the organization. Congratulations to these employees; GMS is proud to have such dedicated individuals as part of their team.
About Group Management Services: Group Management Services is headquartered in Richfield, Ohio, and represents more than 2,500 companies with over 45,000 worksite employees. There are currently 24 offices located throughout the United States. Businesses can rely on GMS' expertise in payroll, human resources, risk management, and benefits.
---
---