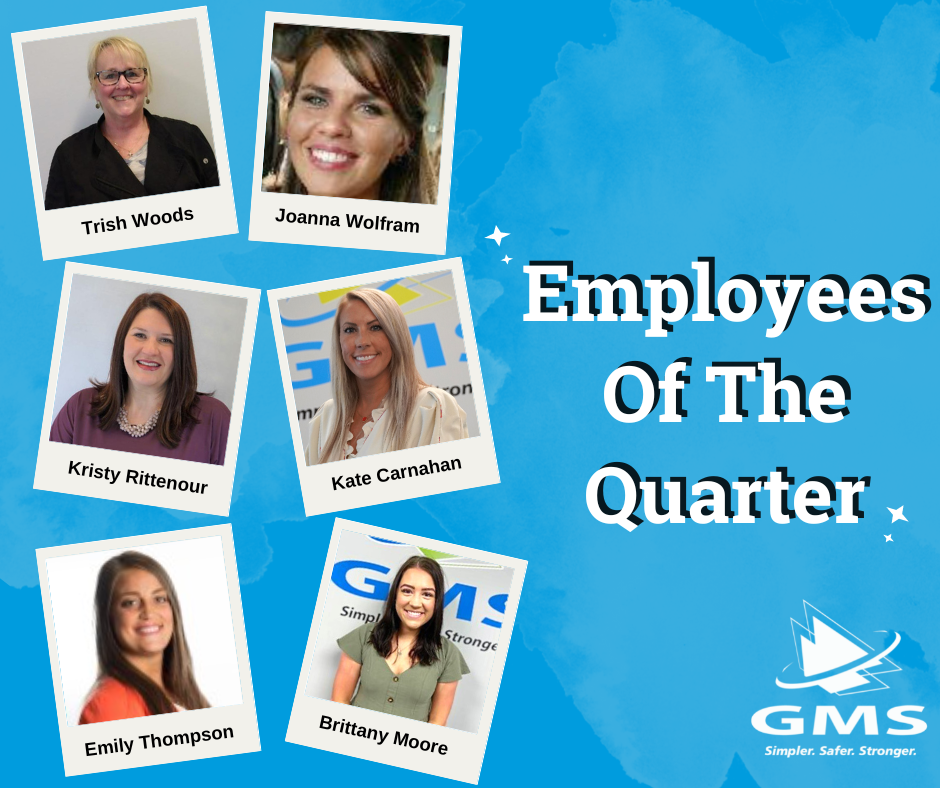 RICHFIELD, Ohio - October 17th, 2022 - As another quarter wraps up, GMS is thrilled to announce its newest employees of the quarter. Each quarter, one GMS employee from each department including benefits, payroll, IT, client services, finance/risk, and sales is chosen by their peers. While many individuals were nominated, these six individuals exemplified GMS' core values and went above and beyond throughout the quarter. 
The recipients of GMS' third quarter Employees of the Quarter award include: 
Kristy Rittenour, Benefits Account Specialist Manager, has been nominated for her patience no matter the situation, for sharing knowledge, for bringing positive energy every day, and for being a great leader. No matter how busy she is growing GMS, she always makes time to help others. 
Joanna Wolfram, Senior Payroll Specialist - Training and Development, was recognized by her colleagues for always having a positive attitude and embodying the team spirit that GMS loves to have. She shares her knowledge with those around her and teaches the payroll team the "why" of what the department does daily. Joanna is everything you could ask for in a teammate. 
Emily Thompson, CRM Administrator, has been recognized for her hard work and dedication to every project she works on. She has provided a seamless process for various workflows, and her attention to detail is apparent in her trainings and everything her job entails. 
Brittany Moore, HR Account Manager, was nominated by her colleagues for going above and beyond for GMS' clients. Dedicated to her job, she always thinks outside the box to make it happen for her clients.
Trish Woods, Corporate Chef, has been recognized by many colleagues for delivering amazing lunches every week, fueling the corporate office with a smile on her face. She cares about GMS and every employee and works extra hard to make sure everyone has exactly what they ordered.
Kate Carnahan, Sales Operations Admin, was nominated for always helping sales representatives with the sales process and solving problems associated with sales technology. Kate is the woman behind the curtains that pushes GMS forward on a daily basis. Her hard work and dedication to GMS are unmatched.
About Group Management Services: Group Management Services is headquartered in Richfield, Ohio, and represents more than 2,000 companies with over 40,000 worksite employees. There are currently 20 offices located throughout the United States. Businesses can rely on our expertise with payroll, human resources, risk management, and benefits.
---
---