Employee Benefits Administration and Management
As a business owner, it's crucial to keep and attract quality employees so you can continue to grow your business. Offering a benefits package is one of the best ways to retain and hire top talent. The only problem is that offering an employee benefits package is becoming increasingly expensive and takes too much of your time.
Whether your organization lacks an HR department or HR team or simply needs a resource to make more informed decisions about benefits management, GMS can help. Our benefits outsourcing services allow your company to offer competitive, cost-effective benefits while you focus on what you do best – running your business.
Contact Us Today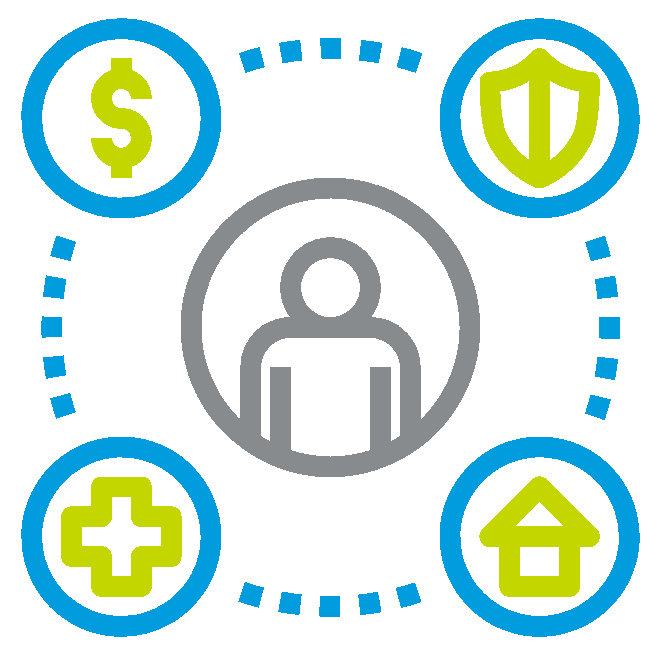 What Employee Benefits Can I Outsource Through GMS?
There are several parts that make up a benefits package. As a professional employer organization, GMS works with employers to help them decide which benefits package makes the most sense for their business operations, employees, and bottom line. While we help you manage employee benefits, our outsourcing small business benefits services include:
Group Health Insurance
Health insurance is often a necessity for employees. GMS can help small businesses offer customized health insurance tailored to your needs. Our Master Health Plan gives our partners access to one of the largest national networks and saves an average of 24% on employee premiums and 21% on family premiums. Your employees will gain access to health insurance plans for their families.
In addition, our experts can handle the responsibilities associated with employee health benefits administration so that you don't have to. We manage everything from the benefits open enrollment period to ongoing plan education through our exclusive technology and dedicated customer support.
Supplemental Insurance Plans
GMS can help businesses bolster their benefits with insurance plans that extend beyond group health coverage. Our supplemental offerings include:
Dental and vision – we offer dental and vision plans from top providers with access to a large network of credentialed specialists.
Life insurance – group life insurance options for employees, including supplemental policies and spousal coverage options.
Disability – protection for employees against major medical events offered in a range of coverage levels
Additional voluntary benefits – add more value to your benefits packages with accident, critical illness, pet, and pre-paid legal policies.
Diabetes Management
The effects of diabetes are costly for both employees and their employers. According to the Centers for Disease Control, diabetes cost U.S. businesses more than $300 billion due to medical care, absenteeism, and other challenges. That's why GMS partners with businesses to provide diabetes management for their employees.
GMS works with One Drop to help employees transform their health and be more productive. This artificial intelligence-powered program provides online health data tracking, health coaching, and other resources to help employees develop healthier habits and limit the adverse effects of diabetes for both workers and your business.
Metabolic Wellness
Healthy weight loss benefits more than just your employees' personal lives. Studies show that employees who are overweight and obese increase health care costs and have higher absentee rates. Metabolic wellness programs help businesses shed some of these extra costs by giving their employees the means to achieve healthy weight loss.
GMS partners with Activate Metabolics to provide employers with an effective, science-based program that crafts unique weight loss systems for employees. Our experts work with you and your employees to develop specific programs that make your workforce happier and healthier.
401(k)/Profit Sharing
Retirement plans and profit-sharing programs reward employees for their hard work and show that you care about their future. Our HR experts help employees take advantage of retirement accounts while allowing employers to reap the benefits of offering retirement plans.
As a PEO, GMS can leverage greater group buying power to offer plan flexibility while cutting potential plan costs. Our employee benefits administration process also means that our team saves you time by handling plan management, audit, and other tasks. In short, we help you improve the employee experience while you enjoy the recruiting and tax benefits of offering 401(k) and profit-sharing plans.
Telemedicine
Visiting the doctor isn't always convenient for you or your employees, especially when the majority of consultations boil down to common conditions. Doctor visits take employees away from their work and lead to more copays and insurance claims. Telehealth turns an inconvenient, costly experience into a benefit for employers and their employees.

Group Management Services helps employers offer Telehealth through Teladoc, providing eligible employees 24/7 access to free doctor consultations. Employees can use simple, online systems to connect with doctors on their own time, cutting down on travel time, waiting room visits, and costly copays that impact their bottom line.
How Does Benefits Administration Outsourcing Help My Business?
There are many benefits to partnering with a PEO for employee benefit administration:
Save time
Leave tedious benefits administration tasks to the experts. We administer the plans on your behalf so that you can focus on what you do best.
Save money
GMS helps your benefits package compete with bigger organizations. We give your company greater buying power through economies of scale.
Simplified employee management
Outsourcing your employee benefits management to multiple vendors gets complicated. With GMS, you have one point of contact for all your administrative needs.
Focus
Let the experts handle time-consuming business functions. Spend less time worrying about benefits packages and more time growing your business.
Organizations that aren't leveraging a PEO or online benefits platform are likely wasting valuable time and energy.
Managing pay stubs and W-2s, tracking time, or doing job-costing and labor distribution can be time-consuming and take business owners away from focusing on more important projects.

With GMS, our online employee self-service portal gives employees access to all of the following and more:
Costs of medical services
RX pricing
ID cards
Detailed EOB & coverage information
Claim details
We offer flexibility, control of premiums, access to data and networks, and overall options that you can't find elsewhere. Financial security, flexible benefits plan, and unprecedented customer service set GMS apart as an industry leader and the preferred provider of employee benefits management services.
Learn Which Health Benefits Are Best For Your Business
Different businesses have different needs when it comes to offering group health insurance. Our small business health insurance guide breaks down key information that you need to know before you start offering health plans to your employees:
Your health care responsibilities as an employer
Common questions about health care plan options, coverage, and costs
How premiums are calculated and how to drive down costs