Group Health Insurance
You want to offer your employees the best healthcare benefits, but you're also dealing with rising premiums. With a professional employer organization (PEO) like GMS, it's possible to reduce your cost, while still providing top-tier coverage.
Lower Your Healthcare Premiums
Whether your organization lacks an HR department, or simply needs a resource to make more informed decisions about benefits management, GMS can help. Working with GMS allows you to enter into a relationship that encompasses all of your administrative functions, allowing you to focus on core business.
Group Health Insurance Coverage
Traditional healthcare arrangements are no longer working. GMS changes the approach to increase affordable options. We give small businesses the buying power of a large corporation. In turn, we're able to offer financial security, flexible benefit options, and an unprecedented customer service experience.
The Benefits Of Group Health Insurance For Small Businesses
Medical coverage isn't just a benefit for many employees – it's a necessity. A competitive benefits package is an essential tool that drastically impacts recruiting, retention, and employee performance.
Comprehensive Small Business Group Health Insurance Solutions
GMS does more than simply offer coverage like a medical insurance company. We provide our clients with various tools and resources to find a coverage solution tailored to your needs.
Group buying power – GMS represents more than 45,000 employees, which allows us to help small businesses purchase group health insurance plans for an average of 24% lower for employee premiums and 21% lower for family premiums than the U.S. average. 
Master Health Plan – GMS is the only PEO that provides an in-house master health plan that helps you avoid large swings in usage, trends, and renewal ratings.
Major carriers – There is no "one-size-fits-all" group health plan. GMS can quote a variety of major insurance carriers to provide multiple coverage options for your business.
Education – In addition to a dedicated benefits specialist, you gain access to a team of experts who can train employees on how your plan works and answer difficult coverage questions.
Guidance – Health insurance is complicated. Our experts provide guidance on how to best utilize your plans, maintain compliance, and stay on top of Affordable Care Act regulations.
Control – GMS gives you more control of your business, not less. Partnering with a PEO for group health insurance lets you focus on growing your business while making your benefits administration more efficient.
What Types Of Benefits Can I Offer My Employees Through A PEO?
Benefits Plan Sponsorship:
Benefit coverages: medical, dental, and vision
Flexible spending account and/or health savings account
Life, accident, and critical illness
Comprehensive 401(k) plan: integrated with payroll
Pet insurance
Pre-paid legal
Telemedicine
Diabetic management program
Make Group Health Coverage Less Confusing
Offering health insurance is easily one of the most complicated and costly aspects of running a business. Our goal is to help employers retake control of this essential benefit. Download our guide on health insurance basics to understand more about the following topics:
The different types of health insurance plans
Your responsibilities for offering health insurance as an employer
Health insurance requirements for a small business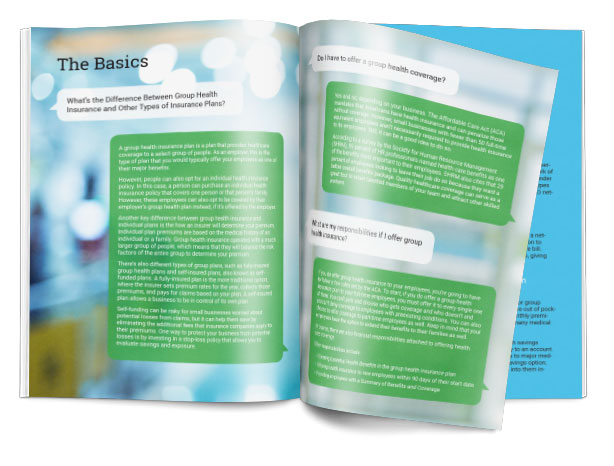 Contact Us
Contact us to learn more about how you can offer quality group health insurance at a lower cost.
Contact