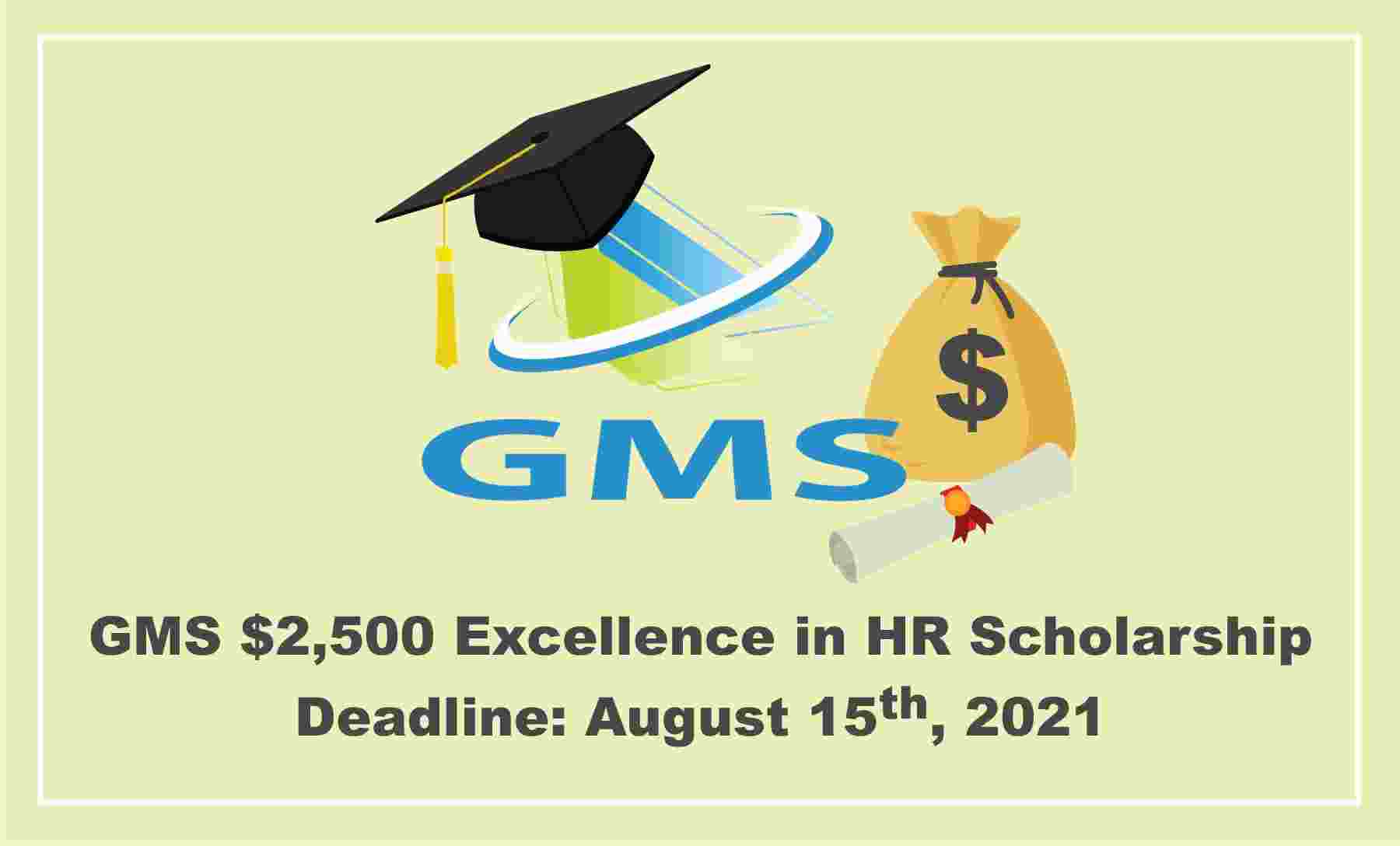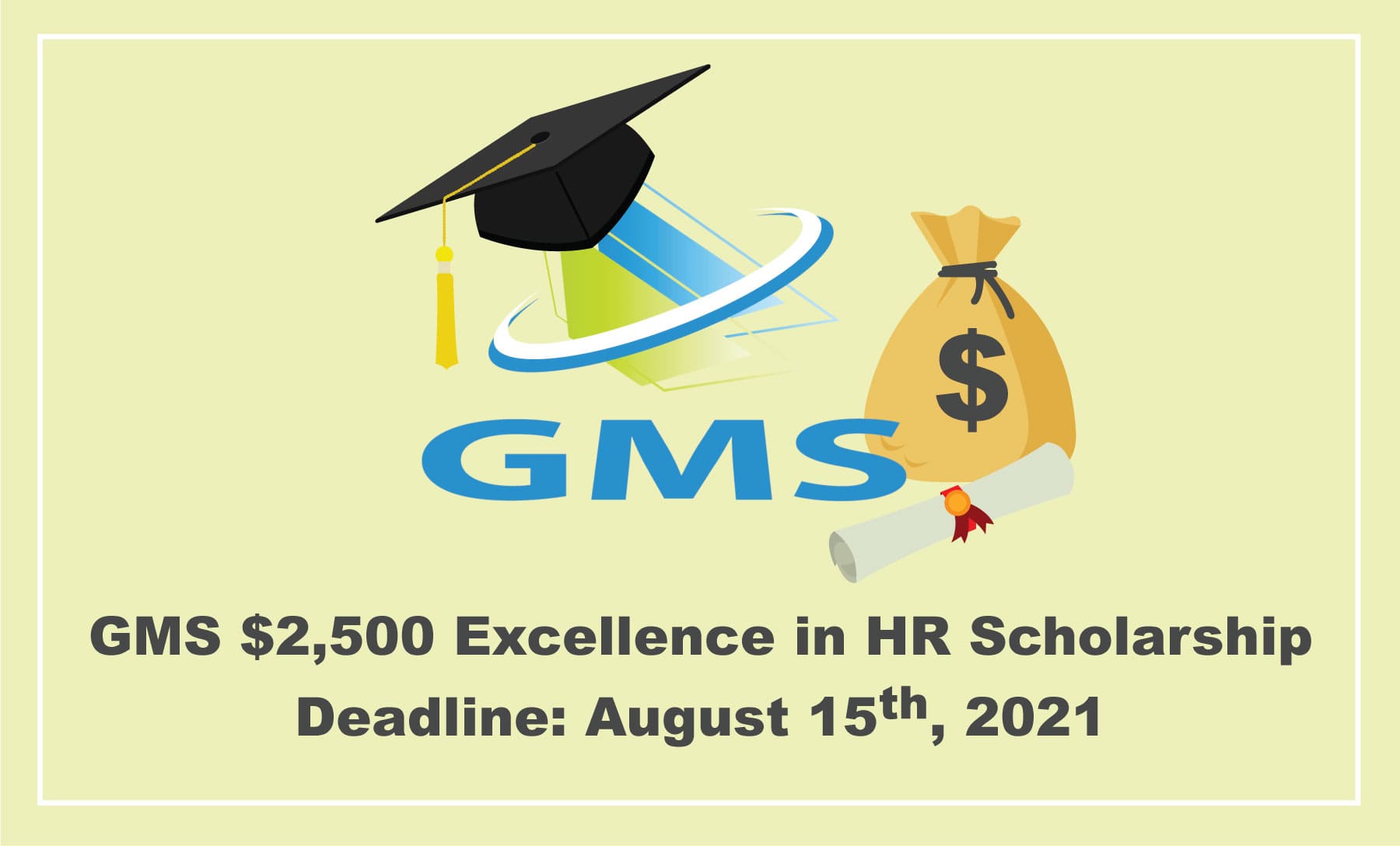 Eligibility Criteria for the Scholarship
To be considered for the scholarship, applicants must meet the following criteria:
You are currently enrolled at an accredited university.
Full course load (12 credit hours/semester).
You have a 3.0 GPA (or higher).
You will submit an 400-600 word essay explaining your path towards a career in HR and/or sales.
You can provide an unofficial transcript.
You accept these terms and conditions (see below).
Applying for the Scholarship
To apply for the GMS Excellence in HR Scholarship, an eligible applicant must submit an essay (400-600 words) explaining what led you towards a career in Sales or HR and how you see those skills benefiting a business. The applicant must provide their information in the fields provided and upload their essay for review. Additionally, the student must upload their unofficial transcript to (a) prove their enrollment in an accredited university and (b) show a 3.0 grade-point average (GPA) or higher.
Applications should be sent to: Marketingteam@groupmgmt.com
Deadline for Submissions
To be considered for the scholarship, student applicants must submit their information by no later than August 15, 2021. Due to the high number of submissions anticipated, forms submitted after the due date will not be considered for the scholarship.
About GMS
GMS is a professional employer organization and benefits administrator. The company partners with over 1,800 small to mid-sized businesses across the country, helping them to outsource all of their administrative functions. This scholarship was created in hopes of helping gifted student, alleviate some of the financial burdens that come with earning a degree.
---
The GMS Excellence in HR Scholarship Terms and Conditions
The GMS Excellence in HR Scholarship is awarded once per year to a deserving student who meets all of the following eligibility criteria:
Applicant is a student based in the United States.
Applicant attends an accredited university.
Applicant has a cumulative GPA of at least 3.0.
Applicant submits a persuasive essay.
Applicant provides an unofficial transcript.
Applicant follows all submission instructions.
Only applicants who meet these criteria will be considered for the scholarship.
Non-Discrimination Clause
Group Management Services will not discriminate against applicants based on sex, gender, race, national origin, family status, age, or other legally protected classes when making decisions regarding the winning applicant.
Selection of Applicants
Applications for the GMS Excellence in HR will be reviewed by committee. The committee will award the scholarship to the student it finds most deserving. Any applications that do not closely follow all requirements will be discarded by GMS. The decisions of the scholarship committee are final.
Notification of the Winner
Due to the high number of applicants, only the winning applicant will be notified. GMS will notify the winner in August 2021. Status updates will not be provided to all applicants.
Privacy Disclosure
Application materials submitted to the scholarship committee become the property of GMS. However, the company will not engage in the sale, distribution, or sharing of private applicant information with outside parties.
By submitting an application, applicants agree to allow Einstein HR to use their name and image for media and marketing purposes, including social media posts, announcements on the Einstein HR website, and any other marketing materials.
Grant of License. By entering the Contest, Entrant grants Sponsor, its agents, subsidiaries and affiliates (the "Licensees") a non-exclusive, worldwide, perpetual, irrevocable, royalty-free, sub-licensable right to exercise the copyright, publicity, database rights and any other rights Entrant has in the Contest Entry, in any media now known or hereafter devised (including without limitation, the internet), without any compensation. Further, by entering the Contest, Entrant grants Licensees the additional license to modify, adapt, translate, create derivative works from, and distribute the entry (with the understanding that Licensees are under no obligation to do so), or incorporate the entry into any form, medium or technology, including the right, at each Licensee's sole discretion, to publish the entry and to use the entry for advertising and promotional purposes. Licensees shall not be required to designate Entrant as the creator or author of an entry that is distributed or otherwise exploited by Licensees, or include any references to Entrant on, or in connection with, any entry that is distributed or otherwise exploited by Licensees.
Representations and Warranties. Each Eligible Participant represents and warrants that: (i) the Contest Entry complies with these Official Rules; (ii) the Contest Entry is original and has not previously won any award or Contest; (iii) the Contest Entry does not and will not infringe any third party's copyright, patent, trademark, trade secret or other intellectual property or proprietary rights or rights of publicity or privacy; (iv) that the Contest Entry is not the subject of any actual or threatened litigation or claim; (v) the Contest Entry is not obscene, offensive, libelous, pornographic, threatening, abusive, or otherwise objectionable; (vi) the Contest Entry does not contain illegal content, encourage a criminal offense or otherwise give rise to liability or violate any law.  Entrant acknowledges that nothing herein shall constitute an employment, joint venture, or partnership relationship between Entrant and Sponsor. In no way is Entrant to be construed as the agent or to be acting as the agent of Sponsor in any respect.
No Liability & Indemnification. ENTRANTS HEREBY AGREE TO RELEASE, INDEMNIFY AND HOLD HARMLESS SPONSOR, MODERATOR AND EACH OF THEIR RESPECTIVE AFFILIATES, SUBSIDIARIES, DIVISIONS, ADVERTISING AND PROMOTION AGENCIES, EMPLOYEES, OFFICERS, DIRECTORS AND SHAREHOLDERS (COLLECTIVELY, THE "RELEASEES") FROM ANY CLAIMS, ACTIONS, INJURY, LOSS OR DAMAGE OF ANY KIND, INCLUDING BUT NOT LIMITED TO, PERSONAL INJURY OR DEATH, RESULTING FROM PARTICIPATING IN THIS CONTEST, OR FROM THE ACCEPTANCE, POSSESSION, OR USE OR MISUSE OF ANY PRIZE AWARDED OR PARTICIPATION IN ANY PRIZE-RELATED ACTIVITY. THIS LIMITATION OF LIABILITY IS A COMPREHENSIVE LIMITATION OF LIABILITY THAT APPLIES TO ALL DAMAGES OF ANY KIND, INCLUDING (WITHOUT LIMITATION) COMPENSATORY, DIRECT, INDIRECT, OR CONSEQUENTIAL DAMAGES; LOSS OF DATA, INCOME, OR PROFIT; LOSS OF DAMAGE TO PROPERTY; AND CLAIMS OF THIRD PARTIES. PARTICIPANTS AGREE THAT SPONSOR HAS NOT MADE NOR IS IN ANY MANNER RESPONSIBLE OR LIABLE FOR ANY WARRANTY, REPRESENTATION, OR GUARANTEE, STATUTORY, EXPRESS OR IMPLIED (INCLUDING BUT NOT LIMITED TO, THE IMPLIED WARRANTIES OF MERCHANTABILITY, TITLE, AND FITNESS FOR A PARTICULAR PURPOSE), IN FACT OR IN LAW, RELATIVE TO THE CONTEST OR ANY PRIZES AWARDED HEREIN. WITHOUT LIMITING THE GENERALITY OF THE FOREGOING, SPONSOR DOES NOT MAKE ANY EXPRESS OR IMPLIED WARRANTIES OR REPRESENTATIONS WITH RESPECT TO SPONSOR'S WEBSITE AND SPONSOR SHALL NOT BE LIABLE FOR THE CONSEQUENCES OF ANY INTERRUPTIONS OR ERRORS RELATED THERETO. THESE TERMS GIVE YOU SPECIFIC LEGAL RIGHTS. THE PROVISIONS REGARDING IMPLIED WARRANTIES ARE VOID IN SOME JURISDICTIONS WHERE IMPLIED WARRANTIES ARE PRESCRIBED BY LAW.
Releasees are not responsible for lost, late, illegible, damaged or stolen entries or submissions, or problems of any kind, whether mechanical, human or electronic. Releasees are not responsible for technical, hardware or software malfunctions, telephone failures of any kind, lost or unavailable network connections, inability to access a website or submit an entry, vote, fraud, incomplete, garbled, or delayed computer transmissions or inaccurate transcription of entry information, whether caused by the Releasees, users or by any of the equipment or programming associated with or utilized in this Contest or by any technical or human error which may occur in the processing of submissions which may damage a user's system or limit a participant's ability to participate in the Contest. Sponsor reserves the right, in its sole discretion, to cancel or suspend part or all of this Contest at any time without notice, if virus, bugs, non-authorized human intervention or other causes corrupt or impair the administration, security, fairness or integrity and proper play of the Contest. In such event, Sponsor may, at its sole discretion, void any entries it suspects are at issue and award prizes from among all eligible entries/votes received up to the date of cancellation.
ANY ATTEMPT BY AN ENTRANT OR ANY OTHER INDIVIDUAL TO DELIBERATELY DAMAGE ANY ONLINE SERVICE RELATED TO THIS CONTEST OR TO UNDERMINE THE LEGITIMATE OPERATION OF THE CONTEST MAY BE A VIOLATION OF CRIMINAL AND CIVIL LAWS AND SHOULD SUCH AN ATTEMPT BE MADE, THE SPONSOR RESERVES THE RIGHT TO SEEK DAMAGES (INCLUDING ATTORNEY'S FEES) FROM ANY SUCH PERSON TO THE FULLEST EXTENT PERMITTED BY LAW AND/OR CRIMINAL PROSECUTION.
Sponsor's failure to enforce any term of these Rules shall not constitute a waiver of that or any other provision. Sponsor reserves the right to disqualify Entrants who violate the Rules or interfere with this Contest in any manner. If an Entrant is disqualified, Sponsor reserves the right to terminate that Entrant's eligibility to participate in this Contest and/or future Contests.