As a business owner, you want your employees to come into work with enthusiasm and motivation to take on the day. After all, employee engagement can be very beneficial to a business in a number of ways. Yet, it's not often that companies prioritize it. According to Gallup's State of the American Workforce Report, only one in three employees are engaged at work. Below, we shared some ideas to improve employee engagement within your small business as well as a few key benefits.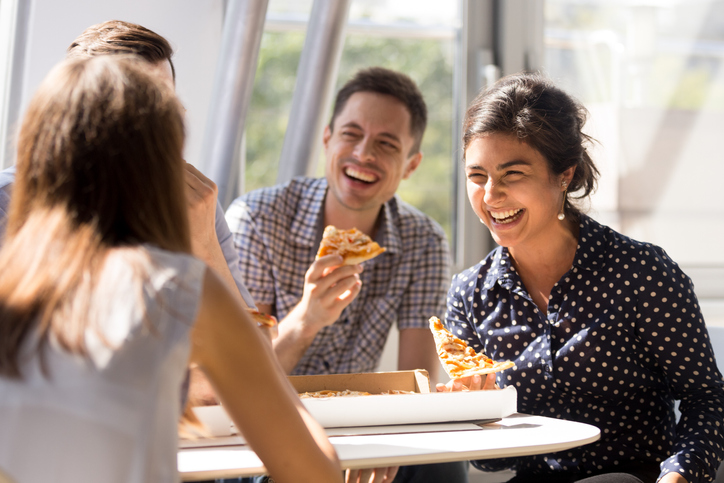 Why is Employee Engagement Important?
Employee engagement equates to more than just workplace happiness. According to Willis Towers Watson, employee engagement is an "employee's willingness and ability to contribute to company success." By this definition, high employee engagement can mean significant growth for your business. Specifically, here are a few key benefits that high engagement can bring:
Increased productivity. Engaged employees have the ability and motivation to outperform those who are disengaged. According to Gallup, highly engaged workforces were 17 percent more productive than those with less engagement.
Greater profitability. Inc magazine reports that increasing employee engagement investments by 10 percent can increase profits by $2,400 per employee per year.
Improved retention. Employees who are invested in their employers won't want to look elsewhere for work. The same Gallup report found that companies reduced employee turnover by 90 percent when engagement increased.
Better customer service. A business's employee experience can directly impact customer experience. According to research by Temkin Group, companies whose customer experience is significantly better than their competitors have more engaged employees.
Reduced absenteeism. Low job motivation can cause employees not to show up for work. Gallup also found that companies were indicated to experience 37 percent less absenteeism as a result of increased employee engagement.
How to Improve Employee Engagement
Considering the many benefits that high employee engagement can provide, there are many different approaches you can take to improve engagement within your organization. According to an article by The New York Times, employees are more engaged when four of their core needs are addressed:
Physical – when employees can renew and recharge at work.
Emotional – when employees feel valued and appreciated for their contributions.
Mental – when employees have the time to focus on their most important tasks and define when and where they accomplish their work.
Spiritual – when employees can do more of what they do best and enjoy most.
With these core needs in mind, here are some cost-effective ideas to improve employee engagement within your small business.
Lunch and Learn
Consider this an upgrade from your typical meeting. As the name suggests, lunch and learn sessions are casual training or informational meetings hosted by a fellow employee during lunchtime. During a lunch and learn, an employee shares a short presentation on a business-related topic, such as how to use marketing automation software or a case study on an exceptional project they worked on. Participants bring their lunches, listen in, and ask questions while enjoying their lunch. Lunch and learn sessions are a great way for your employees to learn about different sides of your business and the types of projects their colleagues are working on.
Innovation Days
Innovation days can be a day, or a half day, where employees are allowed to use company hours to work on special projects that matter to them. It allows employees to be creative, learn new things, and try new ideas, and they will certainly appreciate you for that. As a result of setting aside time dedicated to innovation, your employees may uncover ways to reduce costs, streamline processes, and make your business even stronger.
Team Outings
Company culture is an important aspect of any employee's life. According to Glassdoor, 58 percent of workers say that company culture is more important than salary when it comes to job satisfaction. Hosting work outings can make your employees want to stay for who you are and what you do, and not for just a paycheck. Consider creating a culture committee focused on planning regular team outings and office activities, such as team lunches, happy hours, picnics, sporting events, and volunteer opportunities.
Work Clubs
Shared hobbies can certainly bring people together. Consider creating work clubs, such as fantasy football leagues, running clubs, softball teams, and book clubs, for likeminded employees. Clubs can be a great way to change the conversation from work to personal life and can serve as a prime environment for co-workers to develop camaraderie. According to the Society for Human Resources Management (SHRM), the more friends an employee has at work, the more likely they are to reject another job offer.
Wellness Programs
For employees to be engaged on the job, mental and physical health can play a significant role. That's where implementing a workplace wellness program can help. Consider wellness programs beyond smoking cessation and drug and alcohol abuse prevention. Additional workplace wellness activities could be stress management and workout sessions. Wellness challenges, such as a step count challenge or water drinking challenge, can also be a great way to add some friendly competition into the mix.
Performance Reviews
Providing regular feedback is crucial to keeping employees engaged. Research shows the value of feedback: four out of 10 workers become disengaged when they receive little to no feedback, 82 percent of employees appreciate feedback, and 43 percent of highly engaged employees receive feedback at least once a week.
Regular check-ins―whether weekly, monthly, or quarterly―allow management to acknowledge an employee's efforts and discuss opportunities for development and growth. These discussions can help employees feel more connected to the business, as they will gain a better understanding of the individual role they play in meeting your business goals and develop a sense of purpose that will keep them engaged on the job.
Training and Mentorship Programs
Employee training shouldn't end after onboarding is complete. For your employees to stay engaged, it's important not to let them fall into a rut. Without opportunities to develop and learn professionally, employees are more likely to lose motivation and start to look elsewhere for work. According to a Korn Ferry survey, the majority of those changing jobs said boredom and the need for new challenges were the top reasons they were leaving.
Employee training programs can be an effective way to not only teach new employees but also develop existing workers' skillsets. Additionally, mentorship programs can serve as a great way to help young employees grow within your organization.
Regular Breaks
Regular breaks offer employees time to reset and refocus. The New York Times reports that employees who take a break every 90 minutes experience a 30 percent higher level of focus than those who don't, as well as a 50 percent higher ability to think creatively. A survey by Staples echoes these findings, with 80 percent of respondents saying that breaks make them feel more productive. As these findings show, when breaks are encouraged, employees feel like they can have better work-life balance, which can lead to greater engagement.
Employee Recognition Programs
Research has found that employees not only want but expect to be recognized when they do good work. As a result, Glassdoor found that more than 80 percent of employees are motivated to work harder when shown appreciation. Employee recognition programs are a great way to accomplish that. Consider building recognition programs that are aligned with your purpose, values, and goals as a way to show appreciation, encourage positive behavior, and keep engagement levels high.
Need more employee engagement ideas? Contact GMS today to learn how our employee performance management services can help.
---
---