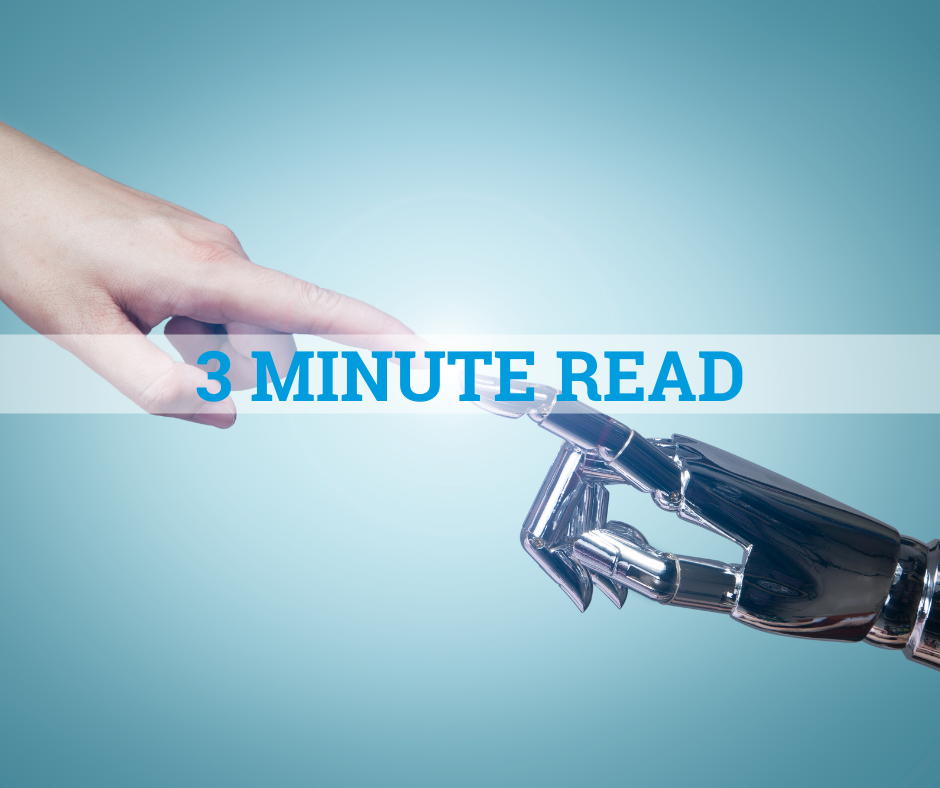 Are you tired of writing job descriptions that fail to attract top talent? Or perhaps you're struggling to accurately capture the essence of a position and effectively communicate the required skills and qualifications? Does the solution lie in the power of artificial intelligence (AI)? With AI-powered tools and technologies becoming increasingly popular, you can revolutionize your approach to job description writing, creating engaging and informative descriptions while saving time and effort. That sounds like a no-brainer, right? Not so fast...
AI In Today's Economy
The world was taken by storm, being introduced to AI platforms such as ChatGPT, CopyAI, Jasper, Sudowrite, and more. However, AI has been around for decades and has helped businesses automate critical tasks and make their operations more efficient. AI is a wide-ranging branch of computer science concerned with building smart machines capable of performing tasks that typically require human intelligence. Since the emergence of ChatGPT in late 2022, studies show that one in four companies have replaced their employees with it.
The impact of AI on the economy cannot be overstated. From manufacturing to health care, AI-powered technologies have revolutionized the way we work. More specifically, for HR professionals, AI offers a wealth of opportunities to streamline recruitment, optimize workforce planning, and improve employee engagement. However, with these benefits come new challenges and ethical considerations. As the use of AI continues to grow rapidly, HR experts must carefully consider the potential risks and benefits while staying up-to-date on the latest developments.
The Good And Bad Of Utilizing AI For Job Descriptions
As we continue to hear more and more about the various AI tools that could help business owners with time-consuming tasks, one should be aware of the pros and cons. While AI can help HR professionals in many aspects of their work life, we're discussing the good and bad when using AI specifically to write job descriptions.
The good
AI-powered tools can save HR professionals time and effort by automating the writing process and generating descriptions more likely to attract top talent. In addition, AI is beneficial as it focuses on the following:
Consistency: AI-generated job descriptions are oftentimes more consistent than those manually written, ensuring that all job postings have the same level of detail and quality.
Inclusivity: AI can help create more inclusive job descriptions by flagging potentially biased language by suggesting alternative phrasing.
Keyword optimization: AI tools and resources can optimize job descriptions for search engines, making them more likely to appear in job search results.
The bad
While there are a handful of positives to utilizing AI, there are also potential downsides. Let's take a look at the downsides AI could have when using it to write job descriptions:
Lack of personal touch: AI-generated job descriptions lack human touch and personality and fail to capture the unique aspects of a particular role or company culture. Many argue that AI-generated job descriptions sound like a series of buzz-words strung together.
Limited creativity: AI may be limited in terms of generating job descriptions that are creative and engaging, which can be crucial in specific industries or for certain roles. Can a robot really capture the culture of your company?
Inaccuracies: Utilizing AI for job descriptions may contain inaccuracies or errors if the algorithm is not trained correctly or if there are gaps in the data.
Let's Put AI To The Test
Considering the pros and cons of using AI to write job descriptions, why don't we put AI to the test and see what happens? When you ask ChatGPT to "write a job description for a sales representative in the manufacturing industry," it comes up with the following:
Job Title: Sales Representative - Manufacturing Industry
We are a leading manufacturing company seeking a highly motivated Sales Representative to join our team. As a Sales Representative, you will be responsible for building and maintaining client relationships, generating new leads, and driving sales in the manufacturing industry.
Responsibilities:
Identify new business opportunities and generate leads through research, networking, and referrals
Build and maintain relationships with current and potential clients, including manufacturers, distributors, and retailers
Develop and execute sales strategies to achieve sales targets and increase revenue
Conduct product presentations and demonstrations to prospective clients
Negotiate and close sales deals in a timely and professional manner
Attend trade shows and other industry events to stay up-to-date on industry trends and establish new contacts
Provide exceptional customer service to ensure client satisfaction and loyalty
Collaborate with internal teams to ensure timely delivery and successful completion of projects
Qualifications:
Bachelor's degree in business administration, marketing, or a related field
2-3 years of sales experience in the manufacturing industry, with a proven track record of meeting or exceeding sales targets
Strong communication and interpersonal skills, with the ability to build and maintain relationships with clients and colleagues
Excellent negotiation and closing skills
Knowledge of manufacturing processes, materials, and industry trends
Ability to work independently and as part of a team, with a strong sense of initiative and a results-oriented mindset
Proficiency in Microsoft Office and CRM software
If you are a self-motivated and results-driven sales professional with a passion for the manufacturing industry, we encourage you to apply. In return, we offer a competitive salary and benefits package, as well as opportunities for career advancement and personal growth. Join our team and help us shape the future of manufacturing!
While this extensive job description gives the applicant an excellent overview of the role, it's still missing the extra detail and human touch writing your own job description would include. For a Sales Representative role, you'd want to have numbers and goals they are responsible for hitting. It's essential to include the expectations of the position, so they know what to expect, at least within their first few months at your company. In addition, the description is missing the benefits included with the position, such as paid time off (PTO), medical, dental and vision insurance, territory (if applicable), and more. In addition, it doesn't include the salary, as most sales positions typically earn a base salary, or it's strictly commission. That's important for the applicant to know when applying for the job. Above all else, it's simply not enticing – there's no character or charisma to be found.
Is AI Worth It?
While AI will provide you with a job description that will save you time, you'll quickly find your candidate pool diminishing from a lack of interest. It's your responsibility as a business owner to attract the talent your business wants and needs to succeed in this challenging labor market. Have you considered partnering with a professional employer organization (PEO)? Partnering with a PEO such as GMS can be highly beneficial for business owners who don't have enough time to craft the perfect job description. GMS' HR experts help businesses create job descriptions that accurately reflect the company's needs while highlighting the unique benefits and opportunities of working with your business. Ultimately, working with a PEO can help companies to streamline their hiring process, save time and resources, and build a stronger, more effective workforce. Let's find you the employees you've been searching for. Contact us today!
---
---