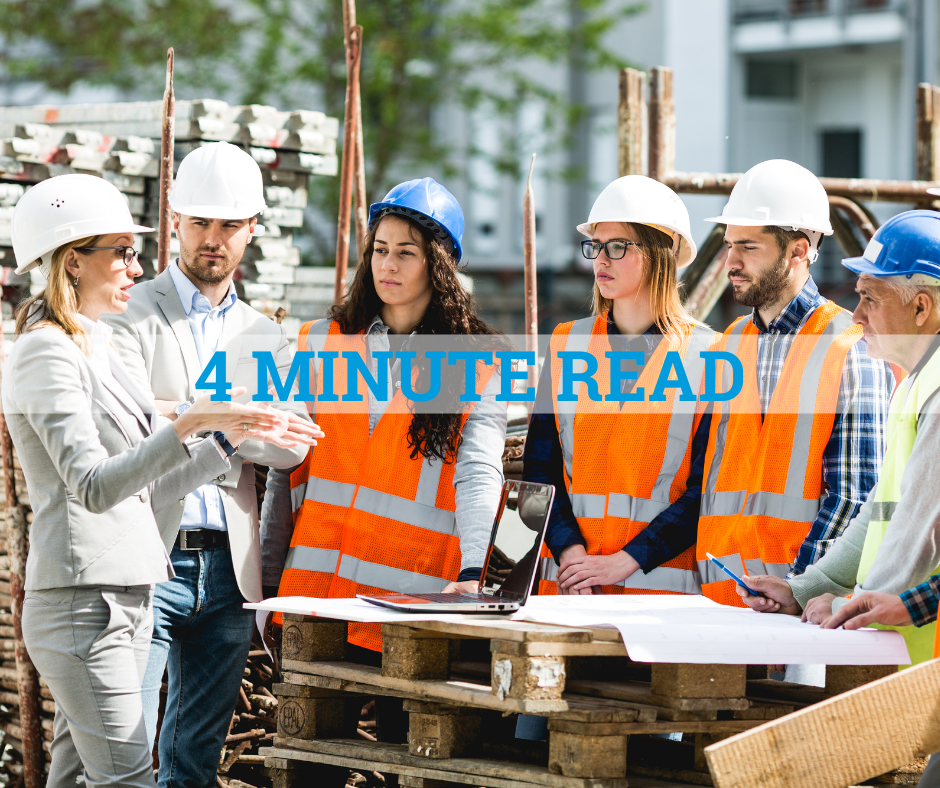 Despite the ongoing construction boom, the construction industry faces several challenges in today's economy. There continues to be a shortage of building materials, paired with prices spiking significantly, which drives up project and rebuilding costs – not to mention the cost of labor due to a nationwide workforce shortage. With all those factors paired together, construction costs continue to skyrocket.
Businesses within this industry are engaged in new construction or reconstruction activities, including the repair or renovation of existing commercial and residential structures, roadways, and bridge construction. The following are typical work activities in the construction industry:
Painting
Roofing
Siding
Sheet metal
Water well drilling 
Installation of flooring
Landscaping
Sandblasting
How A PEO Can Help Your Business During These Challenging Times
Despite these challenges, the construction industry is expected to grow rapidly within the coming years, driven by factors such as urbanization, population growth, and government investment in infrastructure. Businesses within this industry must adapt to these challenges to remain competitive and meet the needs of a rapidly changing economy.
Follow along to see the additional challenges these businesses face and how a professional employer organization (PEO) can help you overcome them.
Regulation
Laws and regulations are constantly changing and affect many construction businesses. If you have a business operating in multiple states, you must comply with all laws in each state. Business owners often have difficulty juggling the different legalities, which leads to costly fines. It's easy to miss an update about a change in the current laws and/or new legislation relevant to you. When you partner with a PEO, you're provided with HR experts who ensure you comply with these ever-changing rules and regulations, so you focus on other aspects of your business.
Minimize accidents in a high-risk industry
It's no surprise that this industry is prone to accidents which can lead to hefty penalties. While falls continue to be the top cause of injury on construction job sites, the Occupational Safety and Health Administration (OSHA) compiled a list of the most common violations they see within the construction industry, including:
Fall protection, general requirements 
Hazard communication 
Scaffolding
Lockout/tagout
Respiratory protection 
Ladders
Powered industrial trucks 
Fall protection, training requirements 
Machine guarding 
Personal protective and lifestyle equipment, eye, and face protection
Failing to provide your employees with safety standards enforced by OSHA, you could face hefty penalties. In 2022, the average penalty for a willful or repeated violation was $145,027. While all of this can have detrimental effects on your business, there are ways you can mitigate these risks. It's essential that you have safety programs for injury prevention. Without a healthy and efficient workforce, you cannot keep operations running and thriving. Partnering with a PEO takes all of this off your shoulders. A PEO takes a proactive approach to workplace safety through various services, including the following:
Onsite consulting 
Jobsite inspections 
Accident and injury investigations
Training
OSHA inspection and citation assistance
And so much more
At the end of the day, partnering with a PEO allows you to dedicate more time to monitoring and coaching employees through safety best practices.
Retaining and recruiting top talent
As employees continue to leave their careers for better opportunities, it's essential that you find ways in which you can stand out from your competition. The easiest way to do that is by offering a competitive benefits package that includes benefits your employees want and need to survive during these challenging times, ultimately helping you attract and retain top talent. Studies show businesses whose employees rated them highly on benefits saw a 56% lower attrition rate.
Employees in this industry want access to the following benefits:
Health insurance 
Employer-matching retirement plans
Life and disability coverages
Paid time off (PTO)
Financial incentives and performance bonuses
A partnership with a PEO enables you to develop and administer a comprehensive benefits package. They group small to medium-sized businesses to provide you with benefits at price points that are typically only available to larger companies. Kalynn Muha, GMS' Recruitment Manager, expressed, "By partnering with a PEO, you're able to utilize their experienced recruiters to stay on top of the current job market trends. This is important in the construction industry as it allows business owners to remain in  the field while HR experts dedicate their time to finding the right talent for your business."
Workers' compensation coverage
As a business owner, one of your main responsibilities is ensuring that your employees are cared for. That's where workers' compensation coverage comes into play. Should an accident or illness in the workplace take place, this coverage prevents you from being liable for lost wages, medical expenses, or being vulnerable to costly lawsuits. The U.S. Bureau of Labor Statistics reports 150,000 injuries annually on construction job sites. That's exactly why you need this coverage, as accidents are bound to happen.
PEOs understand how important your employees are. As the backbone of your business, the last thing you want is for your employees to get injured. However, should an accident occur, it's critical to have a highly trained team to help facilitate claims management. With the construction industry being high-risk, it's quite challenging for businesses to find an insurance carrier that gives them a reasonable price. Fortunately, PEOs offer a competitively priced solution for high-risk businesses that often helps improve long-term workers' compensation costs in the long run.
Reduces the burden of filing taxes
Tax season is arguably the most dreaded time of the year for small business owners. Tax-related tasks take up so much of one's time and are complicated, which can cause more mistakes to occur. Experts found that business owners spend nearly five hours filing and paying payroll taxes pay period. A PEO can take over payroll-related federal, state, and local tax filings. Whether during the busy tax season or year-round, PEOs are there throughout the entire process so you focus on growing your business.
Partner With A PEO Such As GMS
As a business owner in a high-risk industry, partnering with a PEO such as Group Management Services (GMS) could be the solution you've been looking for. Partnering with GMS helps businesses in the construction industry save money on HR-related expenses such as employee benefits, payroll processing, and workers' compensation. We also help businesses comply with employment laws and regulations, reducing the risk of costly penalties and fines. Nearly a quarter of our clients are based in the construction industry. All your HR tasks are handled under one roof and taken on by our dedicated HR experts. Whether you're a roofing or sheet metal business, we've got you covered. Contact us today to learn how we can help your construction business today.
---
---