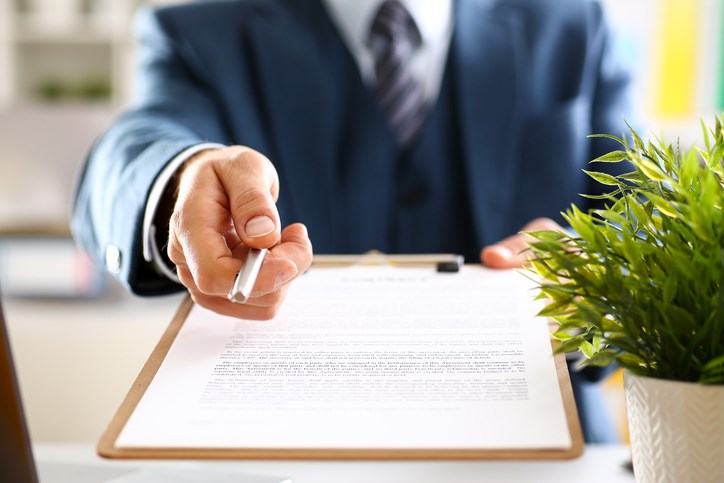 Hiring a new employee is an exciting occasion for a small business. However, it does call for a lot of paperwork. 
The onboarding process requires new employees to review and sign several documents. These papers range from government forms to records specific to your business. Regardless of their purpose, it's important to make sure new hires address these documents shortly after they join your company. Let's break down the various documents required for onboarding a new employee.
The Different Types of New Hire Forms and Documents
Onboarding documents have many different functions. Some are needed to collect important information from a new employee. Others are designed to properly inform new hires about certain practices and give them the ability to sign up for certain benefits. Essential onboarding documents are broken up into a few different groups. 
Initial hiring documents
Employee eligibility forms
Tax forms
General business documents
Regardless of their intent, it's best to have employees review and sign these documents on their first day if possible. While the paperwork may not be all that exciting, it's best to get these steps out of the way early and create a good foundation for new hires.
Initial hiring documents
The onboarding process starts with a job offer. There are a few documents that new hires will need to sign in order to get the job and help ensure that they're the right fit for a company. As such, all prospective employees should fill out the following documents to get the onboarding process into motion.
Job application form
The job application form is the very first official document required to onboard new hires. While this form may seem obvious, it's crucial to have it on file so that you have information such as work history, education, and personal data available in case any issues were to occur in the future. Some states have requirements for including specific statements in job application forms, so having this document can help you prove that you followed any legal obligations.
New employees should sign this document to verify all the information and consent to a background check. It's also important to note that this form should be included even if a job candidate already submitted a resume. You can then hold onto this document for a full year along with any notes or other details documented during the hiring process. 
Offer letter and/or employment contract
The offer letter is another standard part of adding on a new employee. Still, it's important to not only give employees an offer letter and employment contract, but also attach a copy to the employee's file. This inclusion will just give businesses another document to reference in case any issues arise in the future regarding that contract or offer details.
Drug testing records
Whether a company wants to drug test a job candidate upfront or conduct tests throughout employment, you'll need to provide employees with a copy of the company's drug testing policy. You should also maintain records of any test results for at least one year, although some regulations may increase the minimum time frame for saving these records.
Employment eligibility forms
Once you've decided on the perfect candidate, the government requires them to confirm their eligibility to work in the United States. There's only one document that falls under this section, but it's a very important one: Form I-9.
Form I-9 requires both the new employee and the employer to fill out parts of the document. New employees must fill out and sign the first section of Form I-9 on their first day of employment. Employers are then required to review the first section for completion.
Employers also must also fill out the second section of Form I-9 within three business days of the date of hire. This step requires new employees to provide unexpired original documentation to prove their identity and employment authorization. This documentation can come in may forms such as passports, driver's licenses, Social Security number cards, and more. U.S. Citizenship and Immigration Services provides a complete list of acceptable Form I-9 documents online.
Once an employer has the required information, they can fill out the remainder of the form. Employers do not need to fill Form I-9, but they should keep it on file for at least three years after the employee's first day or for a full year after an employee is terminated. This will allow employers to present the form if any authorized U.S. government officials visit the business for inspection.
Tax forms
Employment eligibility is just the first step toward completing government-mandated documents for new employees. Employees are also required to fill out Form W-4 so that you can properly manage payroll for their business. 
Form W-4 is used so that employees determine the federal income taxes that their employers should withhold from paychecks. As such, new hires should fill this form out right away so that employers can apply the information toward their first pay period. Some states also have their own version of Form W-4 for local income tax withholding, while others simply use the federal document.
Employers aren't required to regularly submit these forms, but they should keep them on file for reference and in case the IRS requests a copy to compare withholdings. Each W-4 should be kept on file for at least four years after these taxes are either paid.
General business documents
While some onboarding documents are required by law, many others are simply a means to provide new hires with all the information they'll need at their new company. These papers can range from means to gather payroll and benefits information to simply giving individuals more detail about their roles and other company materials. 
Direct deposit form
Direct deposit is a convenient arrangement for both employers and employees, but businesses need some details to set up this payment method. New employees that will receive direct deposit will need to fill out a bank account information form to ensure that their paychecks go to the right place. These forms should require the employees to include:
Their full name
Bank account number
The account type (checking or savings)
Name and routing number of the bank
 Benefits forms
If a business offers a benefits package to its employees, that company should provide information about those benefits to new hires and have them opt in or out of programs. These programs can include:
Health insurance
Life insurance
Retirement plans
Disability insurance
Wellness programs
Employers will need to hand out different benefits forms for each offering in their plan. These forms should have details about each offering and give employees the chance to opt in for them if they're eligible. Even if they opt out, employers should retain those signed documents as evidence that they were informed of benefits options and chose not to enroll in them.
Mission statement and strategic plan
Some onboarding documents are simply to help new employees get more accustomed to a business. A company mission statement, strategic plans, or any other relevant documents will help new hires understand the company's culture and goals. This type of information will help them understand how their role fits in with the organization's vision and fit in from day one.
Employee handbook
As long as an organization has an employee handbook, it's best to give a copy to new employees right away. A good handbook lays out all the important elements about a business – company policies, procedures, and other key details. 
Handing out a handbook to new employees allows them to consult this document about key questions they may have about an organization. A handbook also serves as a noteworthy compliance tool, acting as proof that employees had prior information about company policies. As such, you'll also want employees to sign an employee handbook acknowledgment form to verifying they received and read through the handbook.
Job description and performance plan
Every employee should be given a clear direction of what their role should accomplish and how their success will be measured over time. Employers should provide new hires with a document that lays out responsibilities, expectations, and potential timelines of what should be accomplished during their first few months. Having employees sign off on this document will not only help them understand expectations, but also provide employers with written guidelines when it comes time to evaluate performance.
Employee onboarding checklist
There's a whole lot that needs to happen in the first few weeks on the job. An onboarding checklist is a detailed action plan that documents all the training, tasks, and other key items that will happen at the beginning of someone's tenure with the organization. A solid outline will help keep everyone on track and give new employees a sense of reassurance that their new employer has a plan and values their position.
Security and parking signoffs
If the job calls for special security or parking details, employers should lay out all that information and arrange for special clearances in time for a new hire's first day. Employees should receive any forms they need to sign and key items or information related to parking, entrance, and more. These items can include parking passes, keys, and passcodes. Documentation for these items should also include details on next steps if an employee leaves the company or is terminated.
Emergency contact information and plans
Everyone hopes that they'll avoid any emergencies, but it's important to be prepared just in case. New employees should be given relevant contact information for managers and other individuals in case anything happens after hours. Employees should also provide the company with an emergency contact in case something happens to them on the job as well. Finally, provide new hires with any disaster readiness plans if the company has any created.
Set Up Your New Employees for Success
While new hires call for a lot of paperwork, a good onboarding process can make for an easier transition into your company. Of course, gathering all these documents is just the first step in a long process. It's important to set the right tone for new employees so that they can help your company grow.
Fortunately, GMS can help your business build an onboarding process that not only sets up new hires for success, but also takes the administrative work off your hands. Contact GMS today about employee onboarding management and other critical human resource functions.
---
---