A small business' success can depend heavily on its employees. The National Federation of Independent Businesses notes that "employees at small businesses carry more of the company's weight on their shoulders than those working at larger companies." As a result, the failure of an individual employee can make a greater impact at a small business than at a larger organization.
Employee management is one way to help turn an underperforming employee around or prevent high-performing employees from becoming a weak performer. The concept of employee management is more than just making sure that people are doing their jobs; it's a variety of procedures and strategies that can help you measure, monitor, and interact with the workforce that plays a huge role in your company.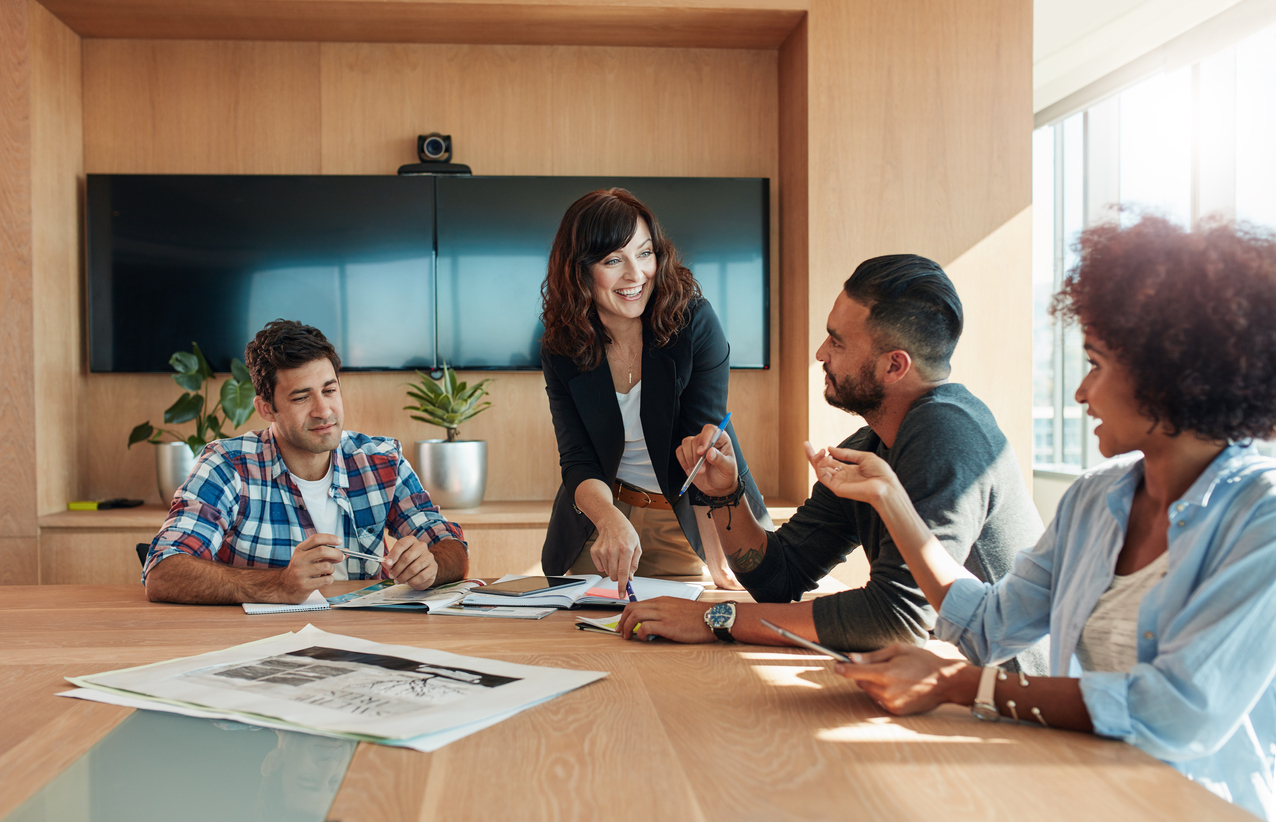 How Does Employee Management Work?
As Robert Morris University Professor Dean R. Manna writes in the Journal of Diversity Management, "employee management is based on ideas and procedures developed to increase worker motivation, productivity, and performance."
Employee management should play a role in every part of the employee lifecycle, starting with employee recruiting and training. A key part of this process is building a relationship with your employees. This involves adopting a few crucial tactics to allow your employees realize their full potential. 
Support Open Communication
Effective communication is important for any company. Entrepreneur reports that in a survey of more than 1,000 employees, "81 percent of employees said they would rather join a company that values "open communication" than some other perks. That same survey also noted that "only 15 percent of employees are satisfied with the quality of communication within their companies."
Of course, good communication is more than just talk. It's important to set up practices that give employees a voice and allow you better means to listen to their thoughts, suggestions, and complaints. These include:
Being visible: Make sure that your employees see you around the workplace and know that you're available to talk with them if they need anything.
Being transparent: Share company information with your employees. This will help them stay informed and make them feel included.
Being open to criticism: Make sure that there is a proper grievance system so that employees can make their opinions known. This feedback can be used to identify potential issues that may negatively impact your employees. 
Help Employees Develop
Monster released a poll in which 72 percent of respondents noted that they don't feel as though their manager cares about their career growth. Giving your employees a chance to develop and grow into new roles in your company can not only keep them engaged, it can also help them gain the skills necessary to become key contributors for your business. Some ways to nurture growth include:
Offering in-house training
Sending employees to conferences and trade shows
Allowing employees to adjust roles based on strengths and interests
Build Trust
The Society for Human Resource Management's 2017 Employee Job Satisfaction and Engagement study notes that 61 percent of respondents find that trust between senior management and employees is very important. However, only 33 percent of these employees were satisfied with the level of trust at their place of employment.
One way to help manage employees is to not micro manage them. Give them enough space so that they can work on their own and step in when they need help or to check in on progress. By giving them a level of independence within reason, you can build a sense of trust that can help motivate your employees.
How Much Does Employee Management Matter?
Good employee management is a skill. Like any other skill, there are things that you can do.
By now, you may recognize that poor employee performance is bad, but exactly how bad is it? Talent management thought leader Dr. John Sullivan came up with six steps to help quantify how much money a poor performer may cost your company.
Determine what an average employee is worth
Determine the differential between an average and a weak employee in the same job
Quantify the value of the "weak performer differential" percentage
Determine the "weak performer differential" for other jobs
Add other "weak performer costs" to the calculation, such as absenteeism and expensive errors
Determine whether weak performers can be improved quickly and inexpensively
According to Sullivan's evaluations, the difference in the value of a weak employee and an average one can range from three-quarters of their salary to nearly seven times the salary of an exceptionally bad employee. By empowering employees and weeding out those who just don't show any potential for improvement, you can not only make your business more effective, you can also save yourself from ongoing costs caused by poor performance.
Focus on Employee Management
Employee management is not just a one-person job. It can comprise of many parts that can take up plenty of time and effort, such as performance reviews, setting up a grievance system, and more.
Fortunately, you don't have to work on employee management alone. A Professional Employer Organization can take on some of the administrative burden required to improve employee performance, as well as other important HR functions. Contact GMS today to talk to one of our experts about how we can help you manage your employees.
---
---